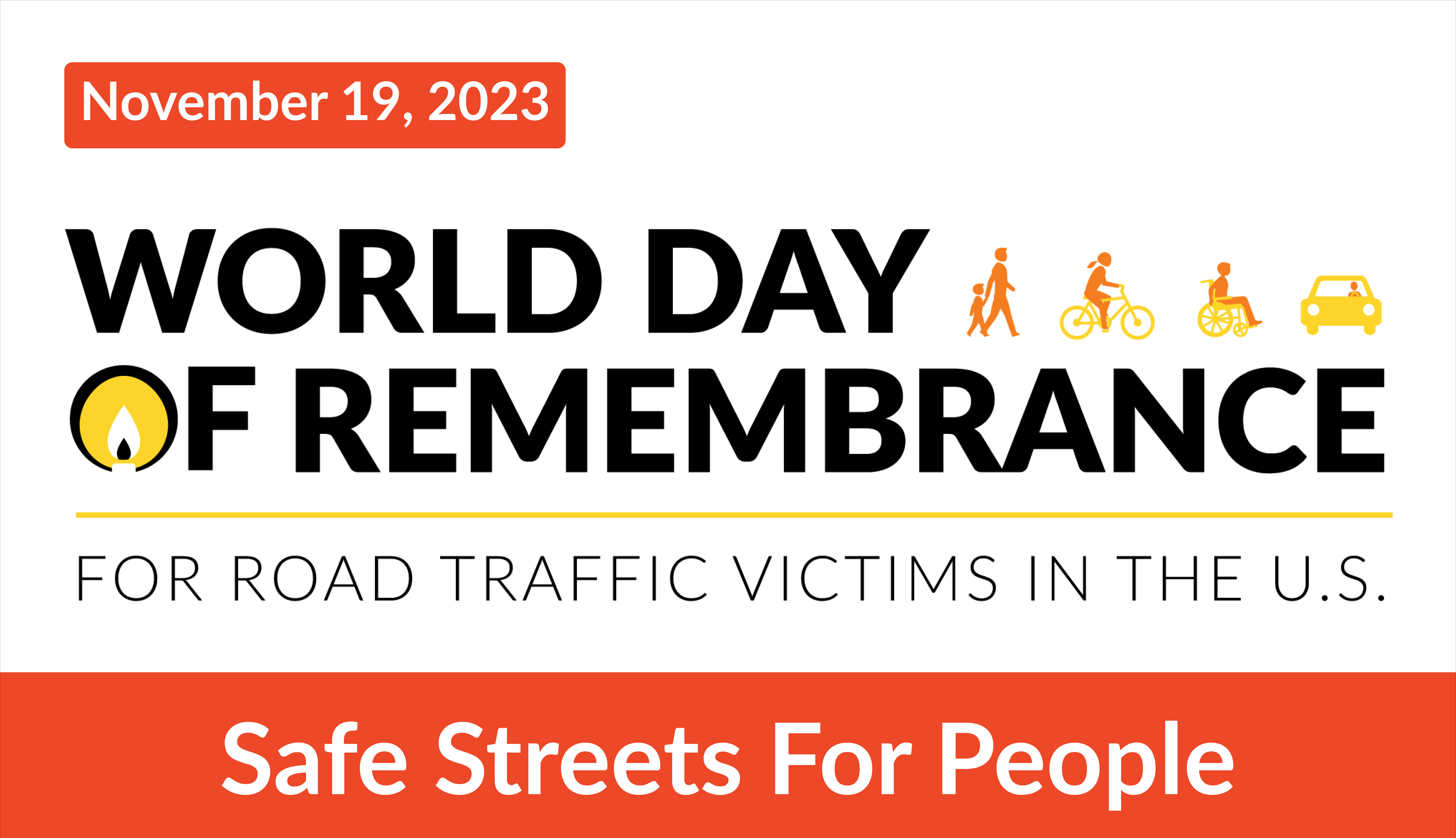 Families for Safe Streets of Oregon and SW Washington, in partnership with The Street Trust, invites you to join us for the observance of World Day of Remembrance 2023 on November 19. This international event honors the memory of those who have lost their lives in road traffic crashes and advocates for safer streets.
Event Details:
11:00 am Gathering begins outside The Street Trust offices at 1259 Lloyd Center
11:30 Processional Walk led by Oregon Walks departs Lloyd Center for Memorial Coliseum
12:00 Program with Invited Speakers starts at Veterans Memorial Coliseum
Charlene McGee, Director Chronic Disease Prevention & Health Promotion, Multnomah County Health Department
Wendy Serrano, Equity and Inclusion Manager, City of Portland Bureau of Transportation
The Morrison Bridge will be lit up yellow all day in observance and participants will wear yellow, as well. There will be an installation under the portico of Memorial Coliseum of black "body bags" representing the lives lost in traffic on Portland streets to date in 2023. (Actually sleeping bags, they will be donated to people in need following the event.)
Objectives of the Event:
Remember all individuals killed and injured in traffic crashes this year
Advocate for improved support for road traffic victims and their families
Raise awareness about the legal response to culpable road deaths and injuries
Promote evidence-based actions to prevent future road traffic incidents
The Challenge in Oregon:
Between 2010 and 2022, annual traffic fatalities in Oregon increased from 351 to 606. The rate per 100,000 residents surged from nine to 14. This alarming rise highlights a public health epidemic, emphasizing the urgent need for safer and complete public streets.
Policy Makers Pledge:
Transportation leaders and decision-makers will be challenged to commit to meaningful action to reverse this epidemic, ensuring safer streets for all. We are asking leaders to sign this pledge acknowledging the harms and inequities of this crisis and committing to actions that can save lives. Signers are encouraged to attend the event and the full list of signers and their comments will be shared with attendees.
Transportation Options:
Veterans Memorial Coliseum is easily accessible by MAX (red, green, blue lines to Rose Quarter Transit Center or yellow line to Interstate/Rose Quarter) and *TriMet* bus lines (*4, 8, 35, 44, 77 to Rose Quarter Transit Center*).
Join Us:
We encourage all concerned residents, road safety stakeholders, elected leaders, and members of the media to participate in this crucial event. Help us remember those we've lost, advocate for safer streets, and support initiatives that can save lives.