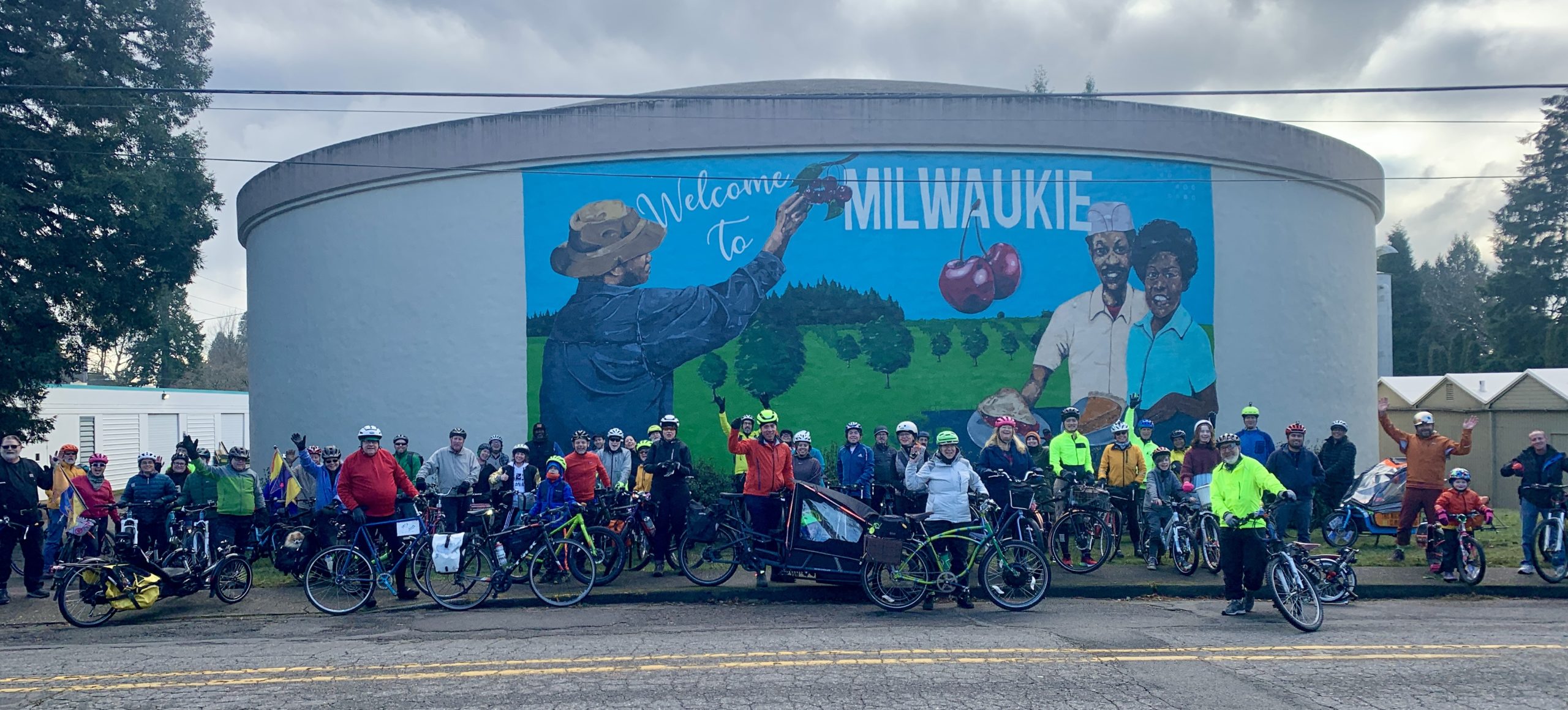 For over 50 years, Portland area residents have welcomed the new year with a bike ride. The ride serves multiple purposes: to joyfully welcome in the new year, celebrate improvements to our streets, and provide an opportunity to experience new parts of the region with friends old and new. This year, we headed to Clackamas County to explore Milwaukie's SAFE (Safe Access For Everyone) program innovations and investments.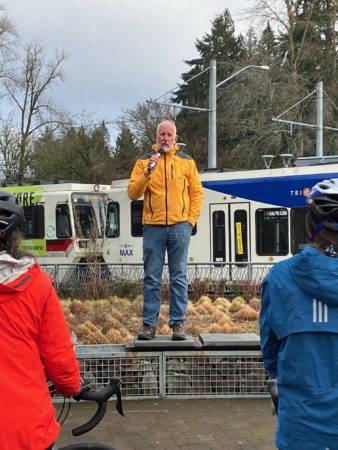 One of our favorite things about riding in a group on New Year's Day is that streets are generally quieter, allowing us to take routes that at busier times are unfriendly (or highly unpleasant) for less experienced riders. This year, that meant we could comfortably check out both completed and not-yet-implemented SAFE project streets.
Our special guest was outgoing Milwaukie Mayor Mark Gamba and incoming State Representative (D- HD 41), who led on many of these investments. He addressed our assembly of 80 New Year's Day riders before venturing out with us on our five-mile, family-friendly ride.
What a great turnout we had! Our events in central Portland historically have attracted more participants than in more suburban parts of the region, so the fact that this year's Milwaukie ride saw a larger crowd than last year's in downtown Portland is something to celebrate! This is The Street Trust's mission in action–centering the people, voices, and needs of communities too often left out of transportation decision-making.
The 2023 New Year's Day Ride was a first for The Street Trust's Education and Engagement Assistant Citlaly Ramirez-Sierra, a resident of Clackamas County, who shared, "I thoroughly enjoyed the event. It was great to see so many community members show up and ride together. Growing up in the Milwaukie area, I didn't see many outdoor community-oriented events; it was heartwarming to see Milwaukie shine the way it did in this event."
The Route
We got a lot of positive feedback about the route so here's a map if you'd like to explore it on your own, with a description of what you'll see below:

We began our ride at the end of the MAX Orange Line to provide easy access to those arriving multimodally and started out along the Trolley Trail, which predates SAFE and is a regional gem.
We left the Trolley Trail to wind our way along the Kronberg Park Multi-Use Trail (SAFE phase 2020) and traversed downtown Milwaukie on quiet streets to reach…
Washington Street (SAFE phase 2024) where we climbed uphill alongside what will soon be improved sidewalk and stormwater management.
We took advantage of the reduced holiday car traffic to utilize the traffic lights into and out of the Safeway parking lot and easily make our way to the very-recently-completed 43rd Avenue Improvements (SAFE phase 2022). In keeping our ride to a family-friendly/all-ages-and-abilities length and steepness we didn't pedal all the way to Linwood Avenue (SAFE phase 2021), our favorite new shared pedestrian/bike path, but 43rd Avenue's shared path is similarly spectactacular and is also the start of a safe and connected network.
We finished up along a portion of the future Monroe Street Greenway (SAFE phase 2022 & some segments TBD).
Our ride ended at the Milwaukie Station Food Cart Pod, conveniently sited next to the penultimate Orange Line MAX station for those leaving multimodally.
The route proved fun and accessible for all manner of bikes including recumbent trikes, young kids on their own bikes, families on cargo bikes, and EUCs (electric unicycles).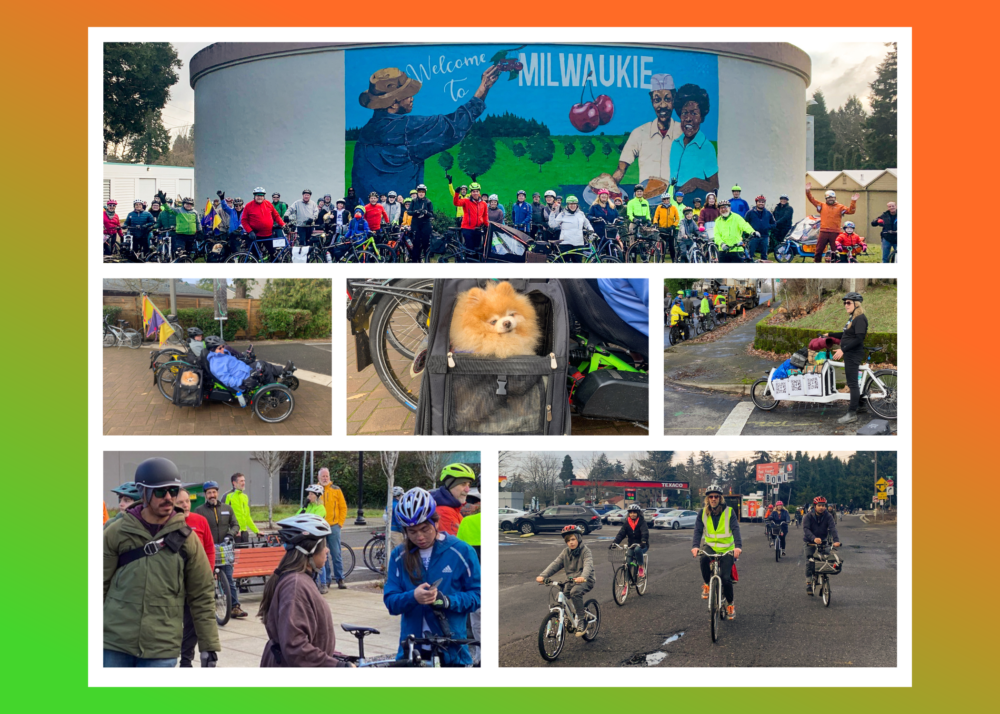 But that's not all! We've noticed that as people are getting back into the habit of gathering in public, connecting as a community is what we're most aching for. So, we book-ended the ride with hot drinks at the start, and a cookie exchange at the end. Over cookies (and other less sugary snacks) we collected "Transportation hopes and dreams for 2023" on index cards from the group, and had a random drawing for four The Street Trust knit caps.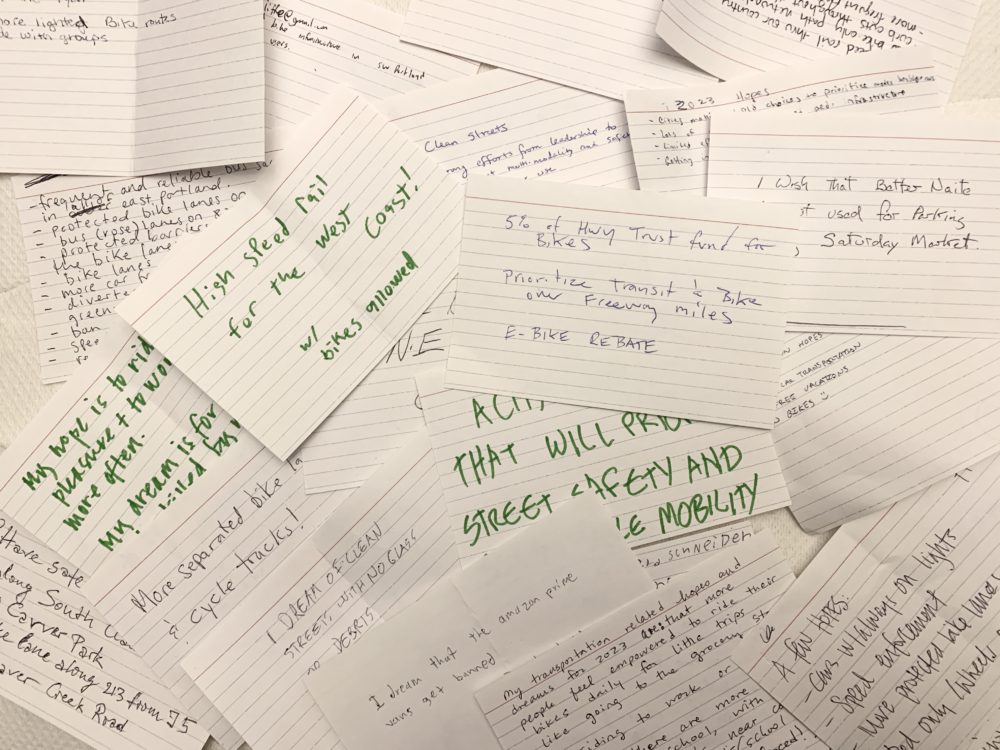 Happy 2023 from The Street Trust! We hope you'll walk and roll through Milwaukie this year and see us at a future event. Please sign up for our newsletter to get updates on events, info on advocacy efforts, and to learn more about the impact we're having in our community; sign up to volunteer to help assist events like this and others, and donate to The Street Trust to support multimodal transportation options that prioritize safety, accessibility, equity, and climate justice.