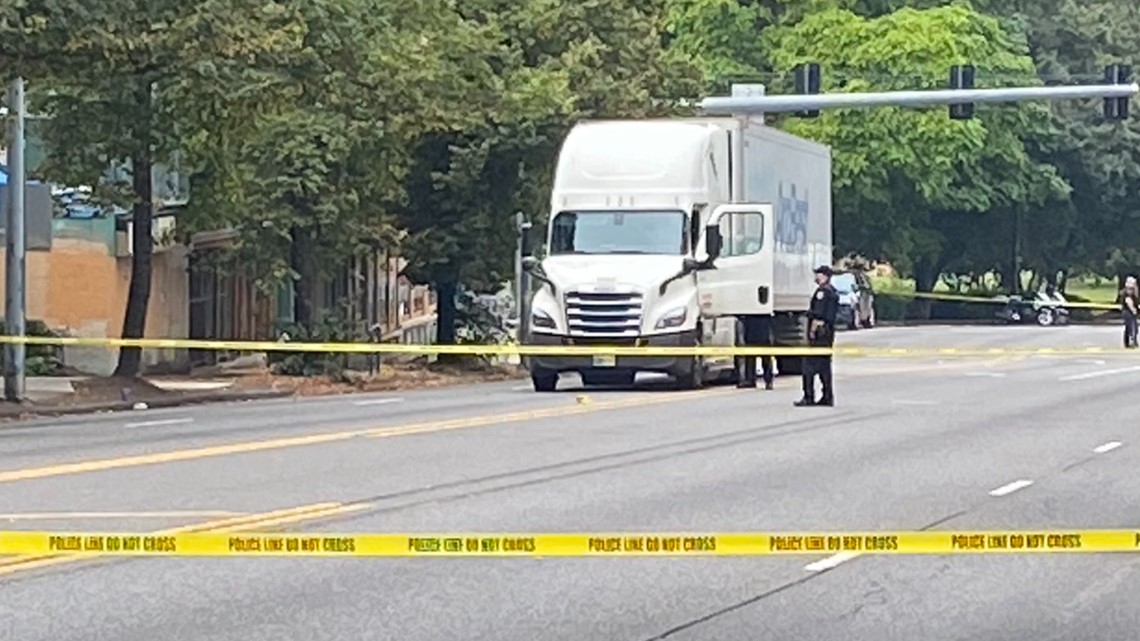 The Street Trust is tired of issuing statements and offering condolences for the loss of life and limb due to government inaction on SE Powell Blvd. in Portland and are demanding immediate action -today- from local and state government to prevent future injuries and deaths.
On May 10th, 2015 at this intersection, Alistair Corkett was struck by the driver of a pick-up truck, resulting in the loss of one of his legs. Just a few weeks later, on May 29th, Peter Anderson was bicycling through the intersection and had his leg broken by the driver of a Jeep Cherokee. On Tuesday, October 4, Aviary restaurant founder Chef Sarah Pliner was killed there while bicycling by the operator of a semi-truck. Our condolences go out to Sarah's family and community as well as the over 400 families affected by traffic violence this year across Oregon. (Read the BikePortland report.)
These injuries and Sarah's death were preventable and the lives of the Cleveland High School population and other street users in the area remain at risk. The Street Trust is demanding that the City of Portland and State of Oregon Department of Transportation (ODOT) cooperate to immediately physically separate from motor vehicle traffic all vulnerable street users including people on bicycles, pedestrians, and transit riders until a full investigation of yesterday's killing is completed.
The Street Trust proposes immediate emergency installation of a protected intersection for people walking and biking, as illustrated. This could be constructed immediately with concrete jersey barriers, event fencing, or other materials the DOTs have on hand, similar to those implemented for pedestrian safety during the 2020 Black Lives Matter protests. The Street Trust is also asking that Portland Bureau of Transportation (PBOT) install metal signs that read, "High Crash Intersection" in that location.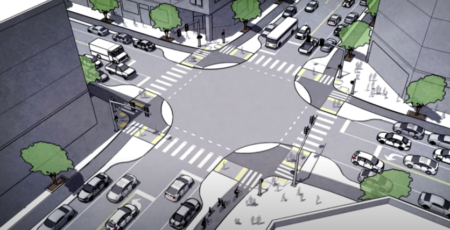 Powell is owned and maintained by the Oregon Department of Transportation and The Street Trust has long protested against their mismanagement of this street, a so-called "Orphan Highway," which is a state highway forced to function as a city street, (Read former ED Rob Sadowsky's statement on violence in this intersection from 2015.) Powell Blvd. is notoriously dangerous. The intersection of SE 26th and Powell Blvd. is considered a high crash intersection for people traveling by bicycle, in particular. Between 2010-2019, there were two pedestrians and seven people riding bicycles injured there.
"We've accepted death and serious injury as a product of our transportation system and desensitized ourselves to the severity of its violence. We've convinced ourselves that death and injury are the expected outcome for people who navigate our transportation system outside of a motor vehicle… that is absurd!" says André Lightsey-Walker, Policy Transformation Manager at The Street Trust. "We have the data and tools necessary to solve these problems but we need the political will to redirect energy and resources toward our most vulnerable and historically disadvantaged street users or we'll continue to see tragedies like yesterday's occur."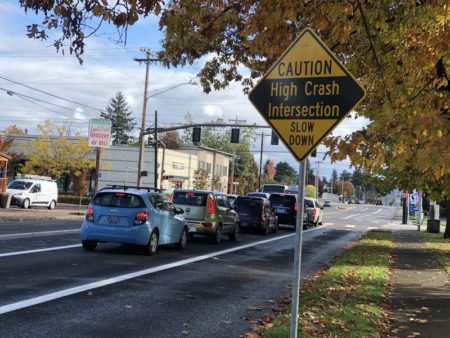 One year ago, on November 16, 2021, The Street Trust Executive Director, Sarah Iannarone, emailed ODOT Region 1 Manager, Rian Windsheimer, with her concerns about safety on this stretch of Powell Blvd., excerpted below:
"As the parent of a Cleveland High School grad who worried – quite rationally – whether my child would make it back and forth across Powell alive each school day, I can't help but wonder what criteria (such as the presence of schools or community centers) and/or how many deaths in a concentrated area it takes before we're willing to fully commit to Vision Zero? I am excited to hear that ODOT is planning an emergency speed reduction between SE 20th – SE 36th but hope you'll consider an Emergency Speed Reduction to 20 MPH in that stretch rather than 30 MPH until the fatalities stop.
Please let us know how The Street Trust can support you in this effort, the jurisdictional transfer, or other safety improvements on this and other orphan highways across our metro region."
Iannarone was joining a chorus of voices from the public and active transportation advocacy community in demanding critical investments in Powell Blvd., including the jurisdictional transfer of Inner Powell Blvd. to Portland Bureau of Transportation in a state of readiness and with an adequate -and mutually agreed upon- level of resources to upgrade the street to ensure safety for all users regardless of mode.
Given how long the transfer of 82nd Avenue from ODOT to PBOT took, we understand that this heavy lift could take years to research, negotiate, and fully fund. In the meantime, we are demanding that ODOT adhere to its own Blueprint for Urban Design (BUD) guidelines how streets like Powell Blvd. should be updated to meet the needs of multimodal transportation. To date, ODOT Region 1 Manager Rian Windsheimer and his enginners are using their discretion and choosing to NOT implement the BUD in Region 1. The public does not need to wait for a jurisditional transfer to see upgrades on Inner Powell: if ODOT is truly prioritizing safety (as they claim) and focused on reducing the number of crashes, injuries, and fatalities on their facilities, it will implement their existing policy standards on Inner Powell in advance of the jurisdictional transfer.