Membership
Bicyclists, pedestrians, bus riders, survivors of traffic violence, professional drivers, commuters, and organizations who support investments in safe and accessible streets.
We're all in this together.
The Street Trust is a membership advocacy organization representing street users from across Greater Portland. We work at the literal intersections of an ongoing transportation crisis. Every day, our unsafe and incomplete public streets threaten our lives and livelihoods. We are driven by a passion for complete streets, rooted in the belief we can stop preventable death resulting from inequality, lax safety, and climate change.
Join The Street Trust today and bring active, affordable transportation and safer streets to your community. You'll also receive discounts to events, special promotions, member updates and event invitations, advocacy alerts, and discounts to businesses when you present your membership card.
Active members get 10% off parts and accessories at these partner businesses:
Clever Cycles, Community Cycling Center, Metropolis Cycle Repair, Portland Bicycle Emporium, River City Bicycles, Trek Bicycle (Portland Downtown, Portland Hollywood, Portland Westmoreland, Happy Valley, Lake Oswego, Beaverton), West End Bikes
A monthly sustaining membership provides The Street Trust with reliable, ongoing support for our advocacy. Best of all, your membership is always current!
Check your contribution history/membership status by clicking the manage your data link here or at the bottom of any page on our website or send an email to Membership Services.
Bud Clark Society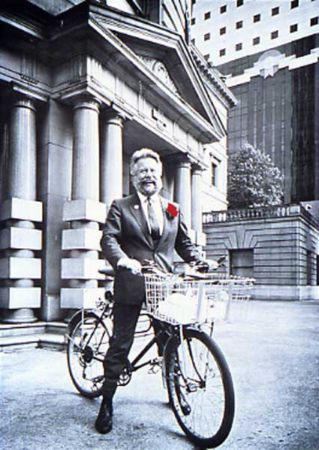 Bud Clark long supported The Street Trust's work to make our region the best place to walk, roll, and use public transit.
Bud Clark was the colorful mayor of Portland from 1985-1993. As Mayor, Bud Clark prioritized homelessness, the growth of mass transit, and downtown development and was a huge proponent of bicycling, walking, and transit use.
The Bud Clark Commons, the Oregon Convention Center, and the MAX to Gresham, are testaments to his commitment to the community.
Join us in honoring and remembering Bud Clark by becoming a member of the Bud Clark Society today with a $1,000 annual or $100 monthly contribution.
Bud Clark Society members receive:
Special thank you in our Annual Report
Profile on our blog and newsletter for their business or foundation
Social media shout out
Special thank you on our website
Two membership cards
Special event invitations
The Bud Clark Society is The Street Trust's highest membership level and one of the most impactful ways for you to support our work in building healthy, thriving communities by making our streets safe for all.
Become a Bud Clark Society member today!