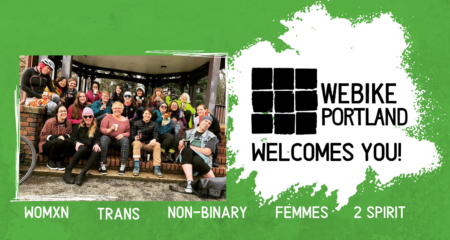 WeBike is The Street Trust's program to inspire more trans people of all genders, gender non-conforming people, Two Spirit, and women (both trans and cis) to incorporate a bike into their lives and use biking as a way to meet their transportation needs and personal goals. We aim to dismantle the barriers of cycling through rides, knowledge-sharing events, meet and greets, and mentorship. The WeBike-Portland private Facebook group is a resource, hub, and a way to connect with others riding in the area. If you have any questions about biking or great biking tips you want to share, post them there!
Find WeBike events on The Street Trust events calendar and shared to the WeBike Instagram and Twitter.
Sign up for the WeBike email list here.
Ways allies can support WeBike: promote events on socials, print a poster, donate to The Street Trust.