The Alice Awards are coming up fast! Our annual awards ceremony is this Saturday, October 2nd, from noon to 3:00 p.m. at the new Ankeny West Plaza in the Cart Blocks of Downtown Portland (770 W. Burnside). Celebrate community leaders over food, drinks, games, and live performances-Tickets are only $15!
This Year's Winners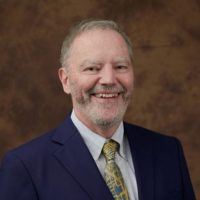 Metro Councilor Bob Stacey is the 2021 recipient of the Bud Clark Lifetime Achievement Award, which recognizes sustained work toward achieving The Street Trust's vision of a complete, safe, low-carbon, multimodal transportation system that contributes to equity in access, opportunity, health, and prosperity for people and communities across the Portland Metro Region and beyond.
Councilor Stacey was the TriMet Executive Director for Policy and Planning during the construction of the Yellow Line MAX in the early 2000s and has always been a visionary, linking land use, transit, active transportation and community for urban sustainability. "Councilor Stacey's impact on our transportation systems spans the lifetimes of some – such as myself! – who are current advocates for a more equitable, safe and just transportation and land use system," says Vivian Satterfield, Strategic Partnerships Director at Verde. "He's played a massive role in shaping our region, from fighting the freeway expansion of the Westside Bypass and in supporting the vision of our region's first ever BRT system with the Division project. His style of leadership comes from a place of genuine curiosity in engaging the people around him as people first in order to find values and common ground."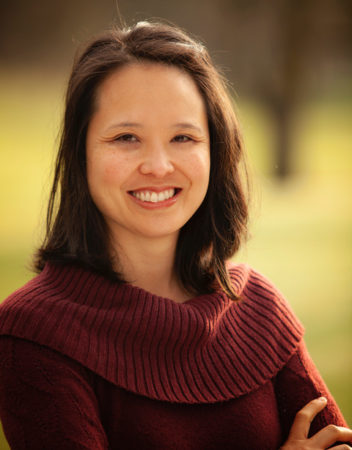 The 2021 Alice Award recipient is State Representative Khanh Pham (OR D-46). Rep. Pham has a long history of community building along 82nd Avenue and in The Jade District, where she has championed safety for people who live, work, shop, and play along the street and across East Portland.
Khanh was a founding leader of and spokesperson for the groundbreaking Portland Clean Energy Fund Initiative, which passed in 2018. As a newcomer to the legislature, she has tirelessly forged connections to bridge divides. "Rep. Pham has a deep commitment to environmental and climate justice. This year, she demonstrated decisive, visionary leadership in securing emergency and long-term funding for the transformation of 82nd Avenue and its transfer to the City of Portland from the Oregon Department of Transportation," says Kimberlee Stafford, Chair of The Street Trust Community Fund's Board of Directors. Prior to the legislature, Pham served as the Interim Alliance Director at the Oregon Just Transition Alliance and was Environmental Justice Manager at the Asian Pacific American Network of Oregon (APANO).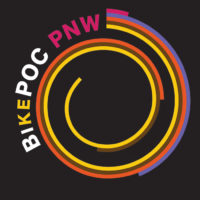 BikePOC PNW will receive the inaugural Elizabeth Jennings Graham Transportation Justice Award for their leadership in actively creating intentional space for bike riders of color in our region. BikePOC PNW co-founders Will Cortez, Silas Sanderson, and Sukho Viboolsittiseri formed the group in early 2021 to create a community for bike riders from Black, Indigenous, and Communities of Color in our area and it has grown quickly. "We appreciate their investment in creating a new, vibrant, and inclusive community for BIPOC cyclists in the Portland metro area through organized rides such as the 'Chingona' and 'Party Pace' rides," explains Thomas Ngo, Chair of The Street Trust Action Fund's Board of Directors.
"The Street Trust is excited to recognize three amazing community members and organizations for their activism and commitment to equity. Their drive and determination are inspirational and lay the groundwork for a better transportation future," says Sarah Iannarone, Executive Director of The Street Trust.
Live Entertainment
DJ ALoSo will kick off the block party at noon as well as play sets throughout the day, culminating in a dance party at the end.
DJ ALoSo is a passionate music curator who believes in community, diversity and inclusivity. His musical influences range in appreciation for eclectic, world inspired, tribal influenced genres that journey through the soundscapes of both light and dark aspects of sound, vibration and rhythm. His artistic Latin influence emerges through a primordial essence, and is expressed through the sharing of music–intended to bring people together through the energy of love and balance.
At 1:00 p.m., Son de Cuba will take to the stage. Son de Cuba is a quintet of musicians from Cuba, Chile, Mexico, and the US. They have roots in Latin, African, and jazz rhythms and blend their vast knowledge of different beats together in classic and modern Latin songs, exuding energy and happiness. Dancing is encouraged!
At 2:00 p.m., take in an exhilarating performance by White Lotus Dragon & Lion Dance. The largest dragon & lion dance team in all of Oregon, White Lotus brings a unique approach to a centuries long tradition, continuously exploring new and creative ideas.
About the Event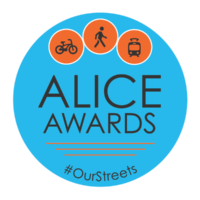 In line with a greater focus on equity and inclusion, The Street Trust has transformed this year's Alice Awards from a high-ticket-price dinner to an outdoor, community-oriented block party at Friends of the Green Loop's new Ankeny West plaza. Live performances will include DJ ALoSo, Son de Cuba, and White Lotus Dragon & Lion Dance. The party will also feature food trucks, a beer garden, a swag table, a raffle, and a dance party. Attendees will get an exclusive preview of The Street Trust's #OurStreets Campaign, which launches this fall.
In addition to the awards ceremony and live entertainment, the event will feature a raffle, the food carts of the Cart Blocks, a beer garden, ring toss–to win bottles of local wines for adults and candy and/or comics for kids, a blender bike to pedal your own non-alcoholic piña colada, limited-edition t-shirts, and a photo booth!
Volunteer shifts are still available to help make this event the best it can be! Sign up here.
SAFETY DURING COVID-19
Based on the latest public health data and analyses, we are reasonably confident that it will be safe to gather with a limited size group in Multnomah County on October 2nd and are designing our outdoor location to maximize social distancing. However, it will only be safe if people who attend are fully vaccinated and wear a mask except when eating or drinking. We are requesting that people who are not vaccinated, unable or unwilling to wear a mask, or who have been in close contact with someone with suspected or confirmed COVID-19, please refrain from joining in person and instead tune into our streams via social media and send a financial contribution to keep The Street Trust's important work going.