Donors are critical to our movement for the streets of the future.
Become a Member: #Members are vital to winning the streets of the future. With an ongoing monthly contribution you can support safe, accessible, equitable and carbon-free streets by contributing a designated amount each month using your credit/debit card.
Sponsorships: #Events are generously sponsored by corporations, small businesses, charitable foundations, and many more entities and individuals who share our belief that we can end death as a consequence of using our streets. Sponsorship opportunities are a great way to be visible to the thousands of people who participate each year. To learn more, email [email protected]
Donate by Mail: Please send checks to:
618 NW Glisan St #203
Portland, OR 97209
Donate online to one of the following:
The Street Trust is a 501(c)(4) organization, focusing primarily on transportation policies, investments, and the elected officials who decide them. Donations to The Street Trust are the best way to advance our vision of safe streets. Because we use these funds to change laws and elect safe street champions, these donations are not tax-deductible.
The Street Trust Community Fund is a 501 (c)(3) non-profit which runs programs to help our members navigate streets and advocate on their own behalf. Donations to the Community Fund are tax-deductible to the fullest extent of the law.
Make an In-Kind Donation: Goods and services gifted to The Street Trust Community Fund may also be tax-deductible. Contact us if you'd like to gift us something other than money, or if you'd like to offer us professional services, for which some expenses may be deducted. To confirm an in-kind donation, click here.
Make a Payment: As a service to our partners, our 501c3 online payment portal is here. The 501c4 payment portal is here.
Share the Road License Plate
Purchase a Share the Road license plate through Oregon DMV. Proceeds benefit The Street Trust and Cycle Oregon.
Showers Pass Little Crossover Jacket
Do you have a little bicyclist in your life? For every jacket sold, 7% of sales go directly to our Safe Routes to School program.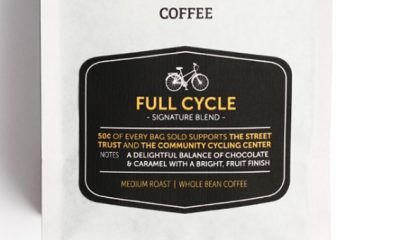 Nossa Familia Full Cycle Coffee
For every bag of Full Cycle sold in their Espresso Bar or purchased on their website, Nossa Familia will donate .25 cents to The Street Trust and Community Cycling Center.