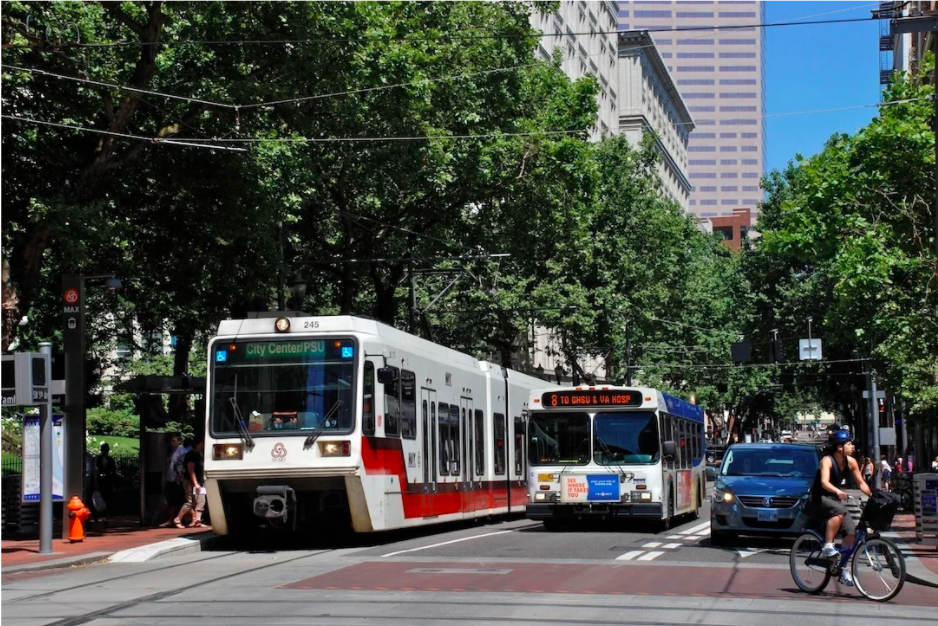 The Street Trust's 2021-2023 Strategic Plan calls for "a complete, safe, low-carbon, multimodal transportation system that contributes to equity in access, opportunity, health, and prosperity for people and communities across the Portland Metro Region and beyond." It all sounds great, but what do we mean by multimodal?
For many people the concept and characteristics of a multimodal transportation system is new and sometimes unclear, which is why I, your new Street Trust Policy Transformation Manager, am here to offer some insight as to what we mean when The Strust Trust demands for a "multimodal" system and why we think it's important.
A multimodal transportation system is one that offers more than one way to move around. For example, in the Portland Metro region there's already a diverse suite of modes people use to get around. People can drive, walk, ride the streetcar or bus, hop on a scooter or one of Biketown's shared electric bikes. However, not everybody has equitable access to all these different modes, and the ease of use and efficiency of each mode is affected by a history of disproportionate investment in infrastructure centered on private automobiles.
Having multiple modes at hand is only one small piece of the multimodal pie. Another critical (and historically underfunded) piece, is infrastructure that allows for convenient, safe and accessible use of other modes. The cost and impact of these investments vary tremendously from mode to mode, but in a complete multimodal system, a single investment or piece of infrastructure can have a positive impact on many modes. For example, look at mobility lanes, which benefit cyclists, skaters, scooterers, and people with limited mobility.
Street users deserve a robust and connected suite of transportation options that allow them to safely travel anywhere they need to go. After more than a century of dominating our streets we think it's time for cars to make way for the future and share the road.
If you live in the Portland metro area and want to improve multimodal transportation in your neighborhood, become a member of The Street Trust or volunteer with us when we hit the streets to improve the road network.
Image Source: Wikipedia Commons