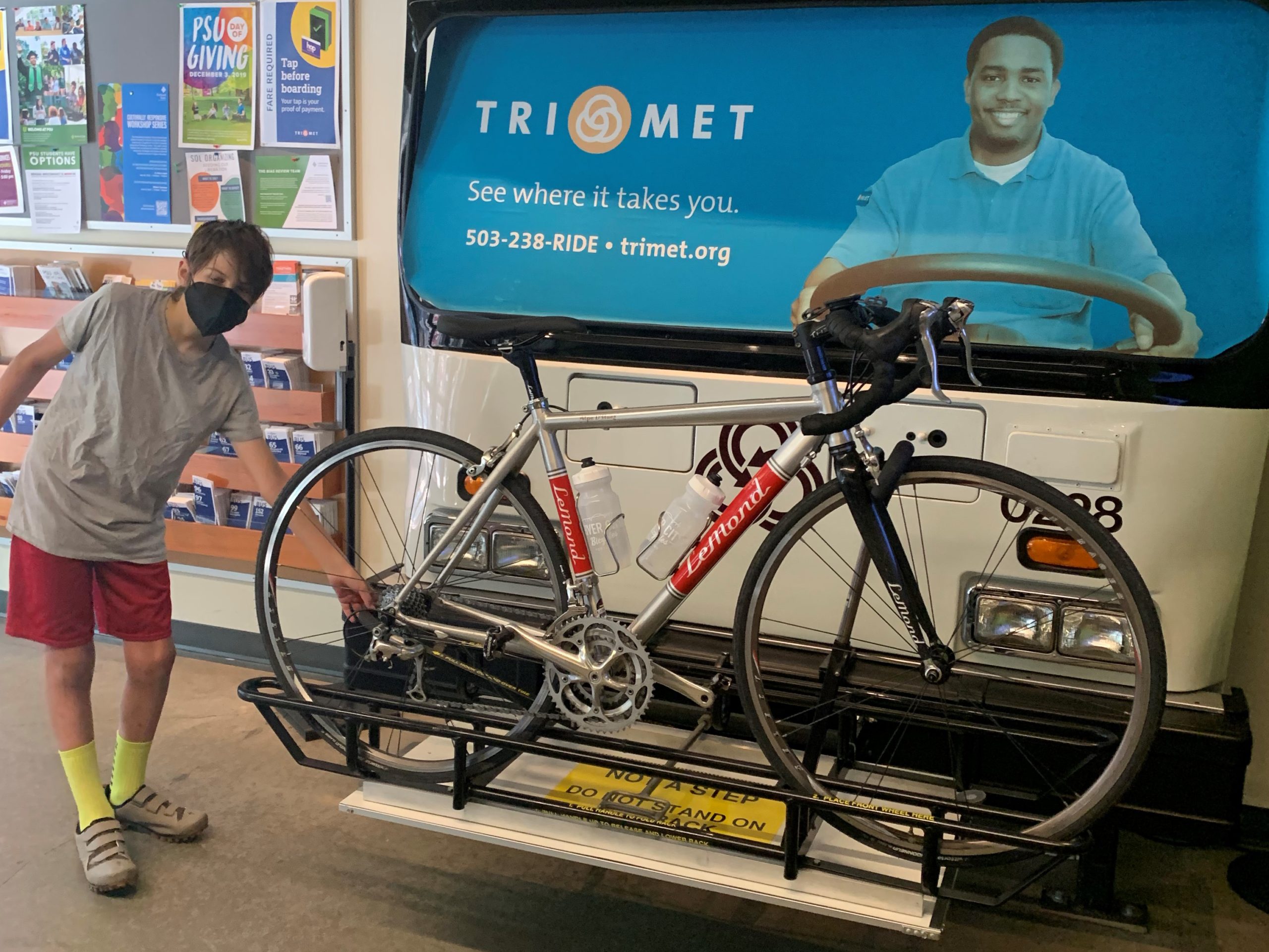 Combining bike and bus trips opens up a world of possibilities, making it possible to access places far away, exhaustingly hilly, and otherwise hard to reach.
This is why The Street Trust loves helping people learn and practice this important skill.
On Monday we took a group to visit the PSU Transportation Center demonstration rack. In addition to the usual discussion of rack specs, gear, and security, we took a deep dive into bike lifting–which is a great first step anyone with a bike can practice at home beforehand. There are a variety of spots to place each hand on your bike to comfortably lift it a couple feet straight off the ground and then move forward onto the rack. The weight of your bike and how that weight is distributed will influence what works best for you. You'll probably put one hand somewhere below your saddle and one on or near your handlebars.
New to us this session was someone hefting their bike by the chainstay! (The chainstay is the short tube parallel to the ground between pedals and rear wheel.) The chainstay on the far side of the bike, no less! Grasping that and the top of the downtube (the lower main tube between handlebars and pedals) was this person's preferred method of lifting a very light bike.
Requirements
Not every bike fits on the rack. The below requirements from TriMet are spot on, as we've learned from explorations in pushing the boundaries during practice sessions:
Wheel sizes 20-29 inches
Wheelbase up to 44 inches (this is the distance from the *center* of your front wheel to rear wheel, not end-to-end of your wheel edges)
Tires up to 2.35 inches wide
55 pounds and lighter
Tutorials
There are some terrific resources you can watch before setting hand to top tube…or stem, down tube, chain stay, headset, etc…
Want to try?
The PSU Transportation Center is located at 1812 SW 6th Ave, next door to the PSU Bike Hub. The demonstration rack is indoors and masks are encouraged. Summer hours are Monday through Thursday 10:00 a.m. to 3:00 p.m. and once classes begin on September 26th hours will change to Monday through Friday 9:00 a.m. to 5:00 p.m. It's convenient to arrive by MAX: catch the green or yellow line to PSU Urban Center/SW 6th & Montgomery.
What about FX?
FX2-Division is TriMet's new high-capacity bus service along Division Street in Southeast Portland, starting September 18th. FX bendy buses have interior floor racks and TriMet has produced a video tutorial: How to load your bike on an FX bus.
Practice with us!
We'll visit the PSU demo rack again soon, and we're in the process of coordinating visits to Portland's other demo rack at Community Cycling Center. These sessions and all our other events can be found on our event calendar. Sign up for our newsletter and we'll let you know via email.