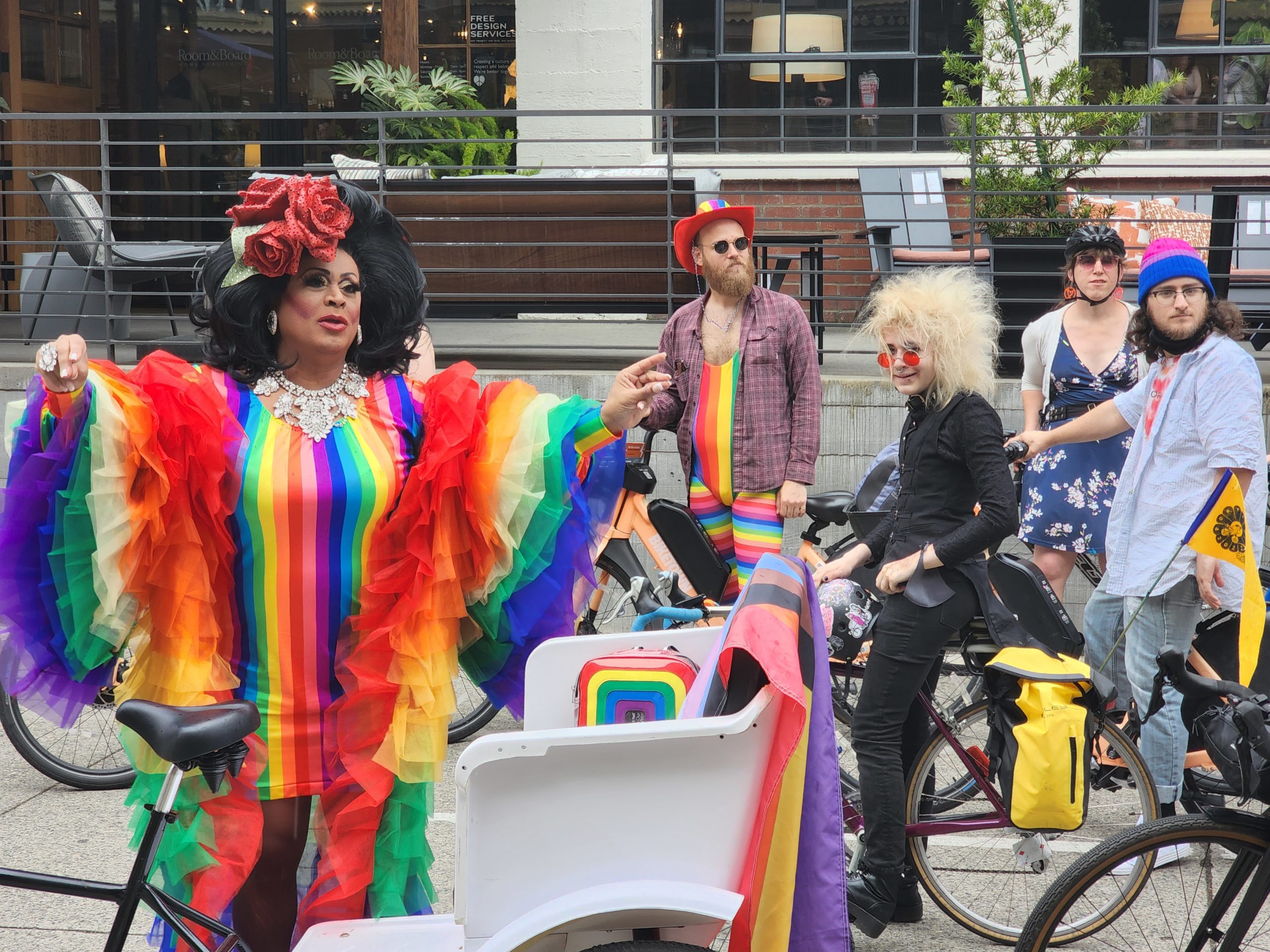 Last Friday, The Street Trust kicked off Pride Month and celebrated World Bicycle Day at the same time by hosting a family-friendly, rolling parade withDowntown Portland and hosted by celebrated Portland drag queen Poison Waters.
Participants gathered in Shemanski Park, which is conveniently located near Biketown stations a block in either direction – in front of the Portland Art Museum and at Director Park. Several attendees checked out a Biketown bike for the parade, including celebrity guests the Gay Beards.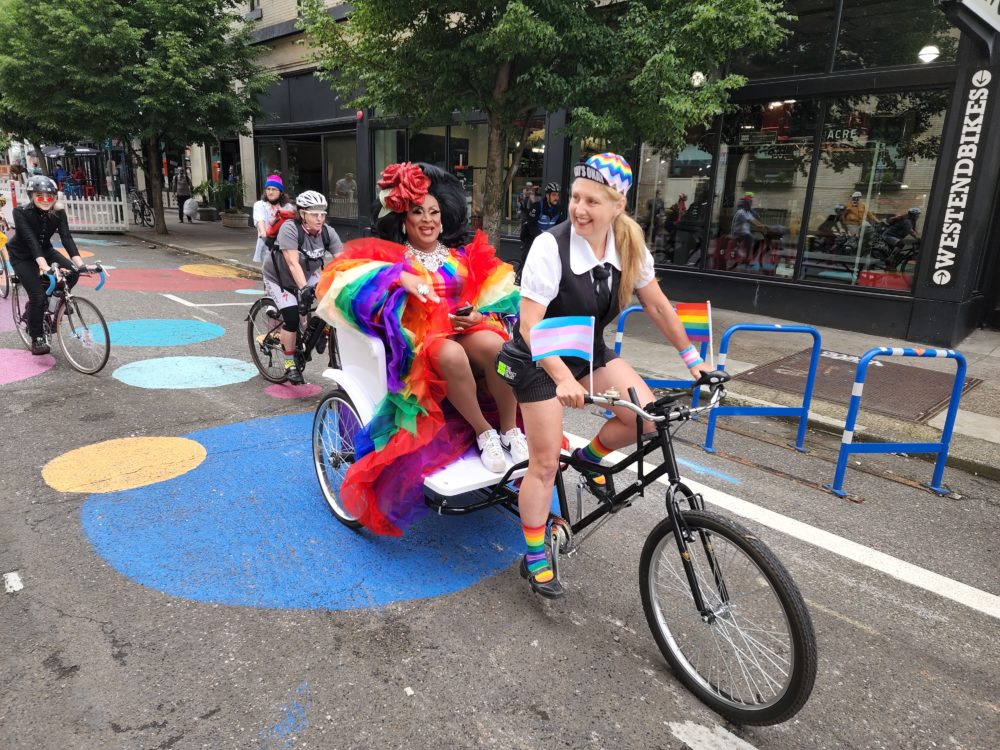 The parade was also joined by everyone's favorite one-wheeled hero, the Unipiper, and the Multnomah County Library book trike. Our two-mile parade route bounced between points of interest from Portland's LGBTQIA2S+ past and present, including the office and residence of famed 1900's lesbian Doc Marie Equi; Vera Katz Park, named for former mayor and gay ally; and Pride Plaza, one of our new street plazas filled with street art, public seating, and community activities.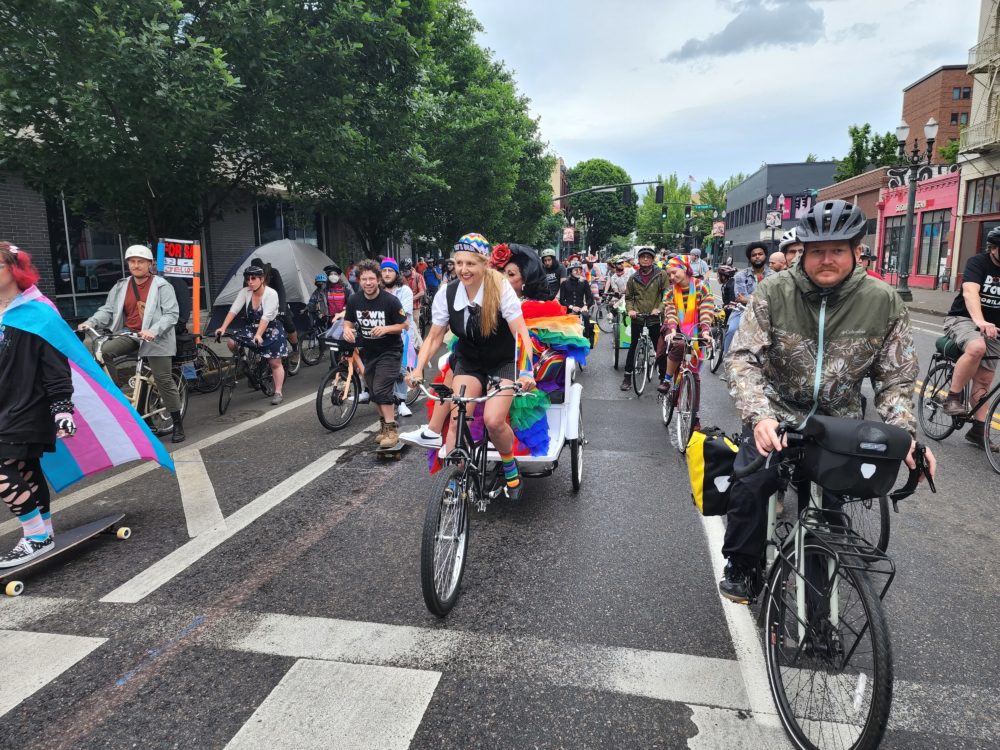 The Street Trust offers a special thanks to our ride ambassadors from BikePOC PNW, an organization that actively creates space for BIPOC folks to ride bikes, build community, forge life-long friendships, and challenge the status quo.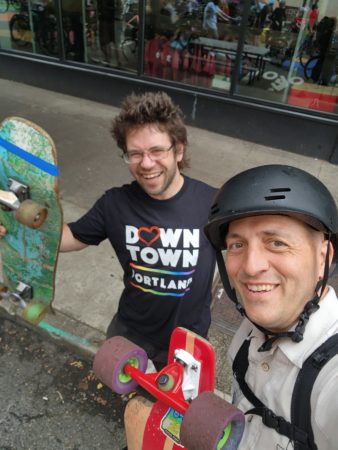 This ride would not have been possible without the generosity of Icicle Tricycles, who provided a pedicab in which we conveyed our host Poison Waters, not to mention the pedicab training sessions and assistive pushes uphill from Icicle Tricycle owner (and Better Block PDX Principal) Ryan Hashagen. Additional thanks to longboard skateboard advocate Cory Poole, who also pushed the pedicab and took many of the photos shared in this post.
We stopped for mini dance parties in three Portland Public Street Plazas and ended our parade with a big dance party at the Cart Blocks Food Cart Pod at Ankeny West, which featured a surprise appearance from Darcelle, the Guinness World Record holding "Oldest Working Drag Queen". Umpqua Bank greeted our arrival with tricycles filled with ice cream and ice pops.
Bikes, trikes, unicycles, skateboards, and longboards– this year's Pride parade had all manner of environmentally-friendly wheeled vehicles (we love our multimodal life) and The Street Trust can't wait to do this again for next World Bicycle Day 2023!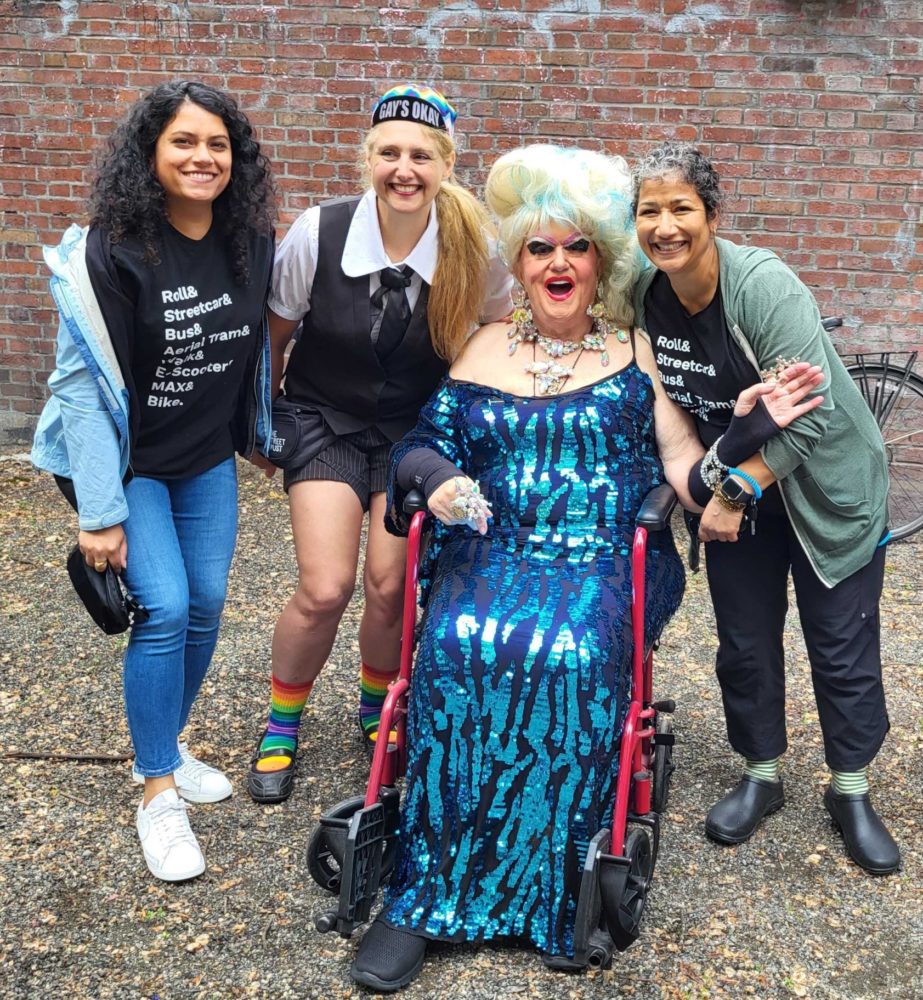 TST staff Anouksha Gardner, Madi Carlson and Board member Jackie Yerby, with Darcelle