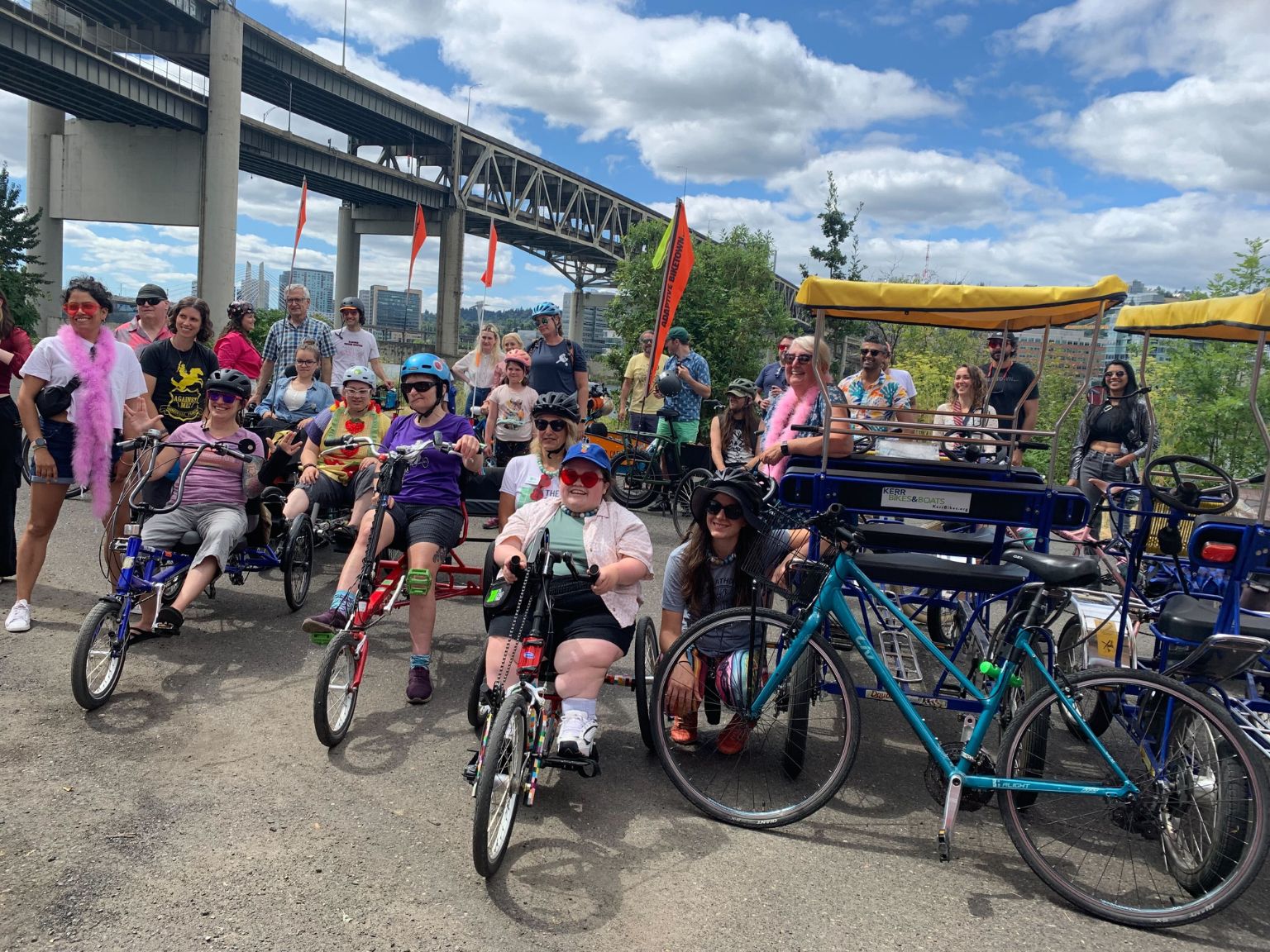 Harry Styles fans, adaptive bike riders, and Pedalpalooza regulars alike gathered on Saturday morning for The Street Trust and Adaptive BIKETOWN's accessible group ride. It was my first time participating in and leading a group bike ride, along with Jenna Phillips (aka @jennabikes), my co-lead.
Since getting involved in the world of transportation justice, I've seen my friends post every year about fun group rides, especially during Pedalpalooza. It wasn't until I tried out an adaptive cycle at Adaptive BIKETOWN that I could see myself being able to participate in a group ride.
We set the gathering time as 10am and left the departure time up to when the group was ready. Getting fitted to an adaptive bike can take a few tries and adjustments, and it was important to us to make sure everyone's needs were met. Some rode their own bikes, some rode traditional BIKETOWN e-bikes, one person rolled along in their electric wheelchair, and myself and a handful of others rode adaptive bikes.
To make the event as accessible as possible, the 2.5 mile route started and ended at Adaptive BIKETOWN. We rode along the Eastbank Esplanade, briefly rode in the streets that connected us over to the Springwater Trail, and rode until a grassy opening where we pulled off onto the gravel trail for a water break before connecting back onto the paved trail and heading back.
Along the way we listened to the tunes of Harry Styles as they played out of an impressive, portable sound system pulled via bike trailer. Some riders dressed up in Harry Styles inspired outfits or donned feather boas and heart shaped sunglasses. While rides don't require a theme, adding one gave myself and other disabled attendees, who can't usually participate in group rides, the full experience.
If you've come across a BIKETOWN booth recently, you've likely seen their backdrop that says: YES, YOU ARE A BIKE PERSON. Riding together alongside other disabled people as we led the group truly allowed me to feel that sentiment for the first time. Seeing oneself represented and able to participate in the cycling community makes a world of difference in imagining how we can move through the world together.
Sign up for accessibility related news and events!
Support TST's Work To Make Biking Inclusive!