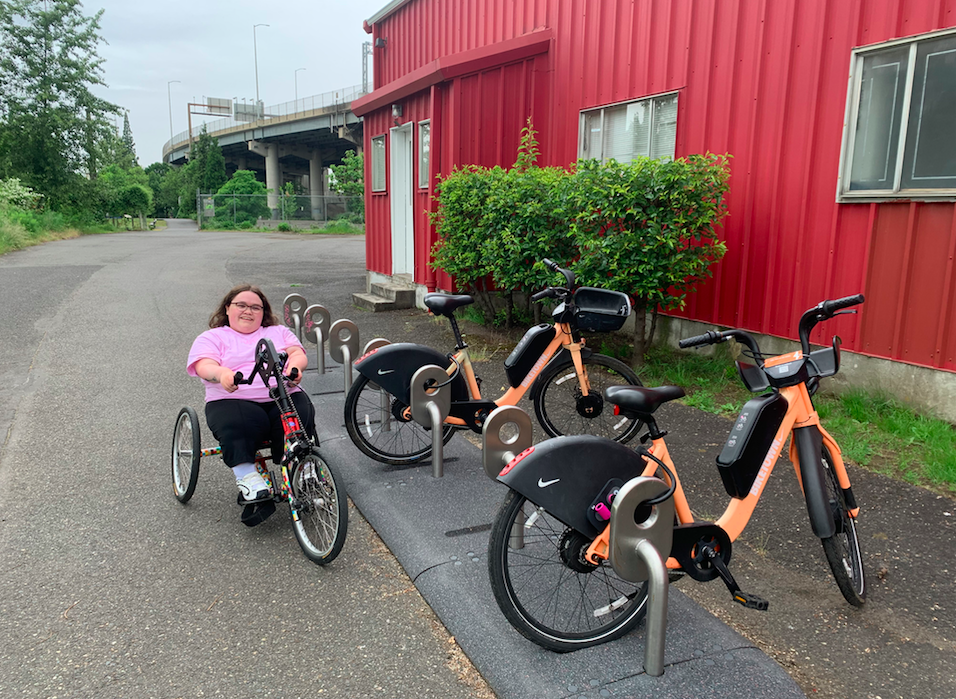 Adaptive BIKETOWN is a great start for making cycling more accessible to disabled people – Cassie Wilson, Community Engagement Assistant at The Street Trust.
As a disabled person, I'd never gotten to ride a bike as an adult until I found one that works for me at Adaptive BIKETOWN.
During the 2022 Oregon Active Transportation Summit I connected with Roshin Kurian from the Portland Bureau of Transportation, who manages Adaptive BIKETOWN, BIKETOWN for All, and the Transportation Wallet. Roshin encouraged me to check out Adaptive BIKETOWN and see if one of the bikes they have would meet my needs.
Shop manager Kristin Miller helped me try out several different adaptive cycles. I have a form of dwarfism which resulted in mobility related disabilities. Despite not being able to walk long distances, my legs work fine, so I hoped to find a foot-powered trike of some kind that could work for me. Unfortunately none of the current adaptive foot-powered cycles available were a match for my short and disproportionate skeleton. Instead, I found a small adaptive handcycle and took it for a spin!
Adaptive BIKETOWN is located just to the west of OMSI's north parking lot along the Eastbank Esplanade. It's a great location for anyone trying out cycling for the first time since you don't have to ride alongside car traffic. That being said, I did get to ride on the road in a bike lane very briefly between the Eastbank Esplanade and the Springwater Trail, which was a new and exciting experience!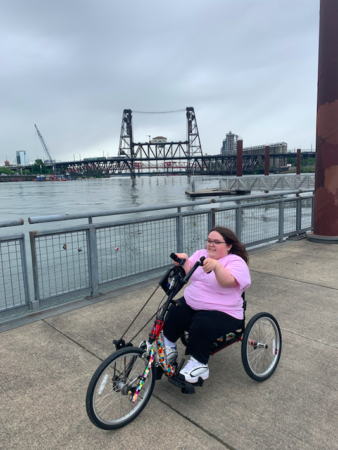 Overall, the handcycle worked great for me. Going up inclines proved difficult as the handcycle required me to use muscles that don't get worked much, but I was lucky to have a friend (because riding bikes with friends is fun!) who could push me up tough inclines.
I ended up riding about 5 miles, which was the farthest I've ever manually moved my body in my whole life(!) and I had a blast doing it. I'm excited that I now have way to ride bikes with my friends, and look forward to enjoying it even more when it's a bit cooler outside.
Adaptive BIKETOWN is a great start for making cycling more accessible to disabled people. I hope to see their fleet expand to include more variation in electric assist adaptive cycles (to make hills less daunting). I also hope to see more bikes tailored for specific types of disabilities such as those recently released by UK bike company Islabikes for people with disproportionate dwarfism.
Adaptive BIKETOWN is a great way to try out a bunch of different adaptive cycles in one place to find one that works for you before going out and buying your own.
Learn more about Adaptive BIKETOWN on their website or join us Saturday, August 13, 2022 at 10am for our Harry Styles themed adaptive bike ride! RSVP to the event or sign up to volunteer.