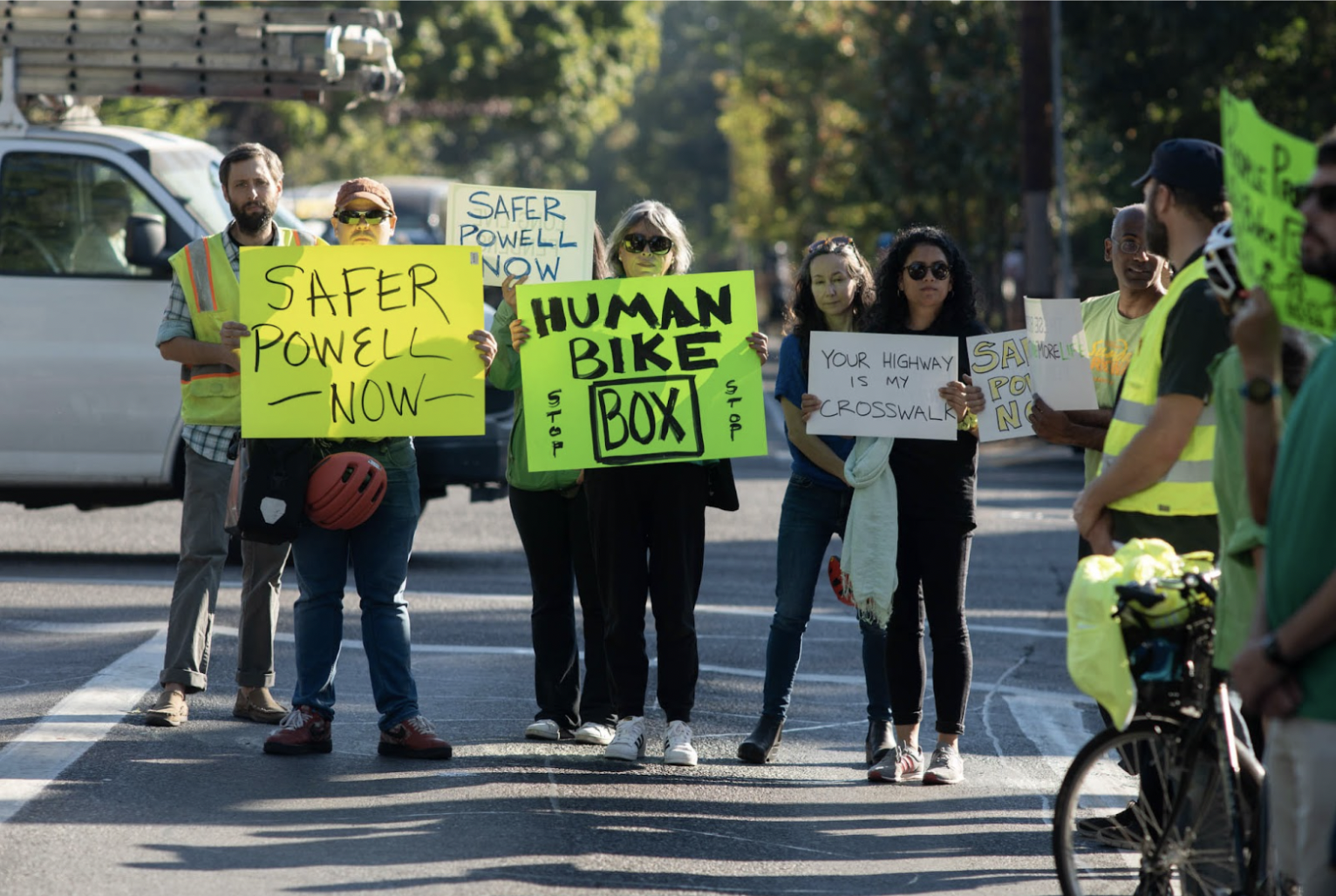 In my thirteen years living in Oregon, the protest on Powell Blvd last week was the first I've ever attended.
Assembling peacefully in the street demanding government accountability on traffic safety was my first exercise of my First Amendment right to assemble as a U.S. Citizen. I'm originally from Nepal and was proud to be naturalized this past year. At this protest, I witnessed firsthand the power of the community coming together to demand something like safer streets from our officials.
Not only was it my first time at a protest, it was my first time being a 'Human Bike Box,' meaning participants stood together with our bodies in front of traffic in the intersection representing where safety infrastructure used to be. Each time the light would turn red, I'd step into traffic to form the Human Bike Box; each time, so many feelings welled up within me. I felt a sense of power, to be able to stand arm in arm with other community members, I felt a sense of strength in the statement we all were making. I felt brave and a little bit scared to be standing in front of an oncoming car, especially since I'd brought with me my mother, who is visiting the U.S. from Nepal. Most of all, I felt connected to diverse people from parts of society who use the street in different ways – people who walk, people who ride bikes, people who ride transit and people who drive. There were young people and elders, families, and people with disabilities.
Standing in traffic changes your perspective. Even though as Strategic Partnerships Manager for The Street Trust it's my job to connect with a wide range of people around our mission, it was a new experience to talk with people sitting in stopped cars right in the middle of street – answering questions, sharing information, and for the majority of people, sharing sadness around Chef Pliner's death and wanting safer intersection for everyone whether they're walking, rolling, or motoring through it. Many people in cars wanted to know how they could help and how the demands we were making would be put into effect and when. It really put our current strategy in context, and drove home why it's important to include people who drive cars in the movement for safer streets and a better transportation system.
I live in Washington County but decided to take my mother to the protest because we wanted to gather in solidarity to honor Sarah Pliner, who was killed the previous week in the intersection where we were protesting. My mother shared with me how when they protest in Nepal, the tactics and demands differed a lot from what we were doing at our protest. But at the end of the day, the goal was the same – accountability from the government and justice for the people.
Participating in the protest in the streets was an empowering, and satisfying experience for me, but it was also scary. Scary because there were motorists who didn't like us being there in the streets. Scary big trucks passing so close to our feet while we stood on the sidelines. And scary because of the aggressive drivers intentionally racing through at high speeds and loudly revving vehicles to make some sort of misguided point.
At the end of the day, the protest on Powell was amazing to see because not only did nearly 200 people come together in silence, with signs and solidarity, to convey the message that enough is enough: we demand safer streets for people now.