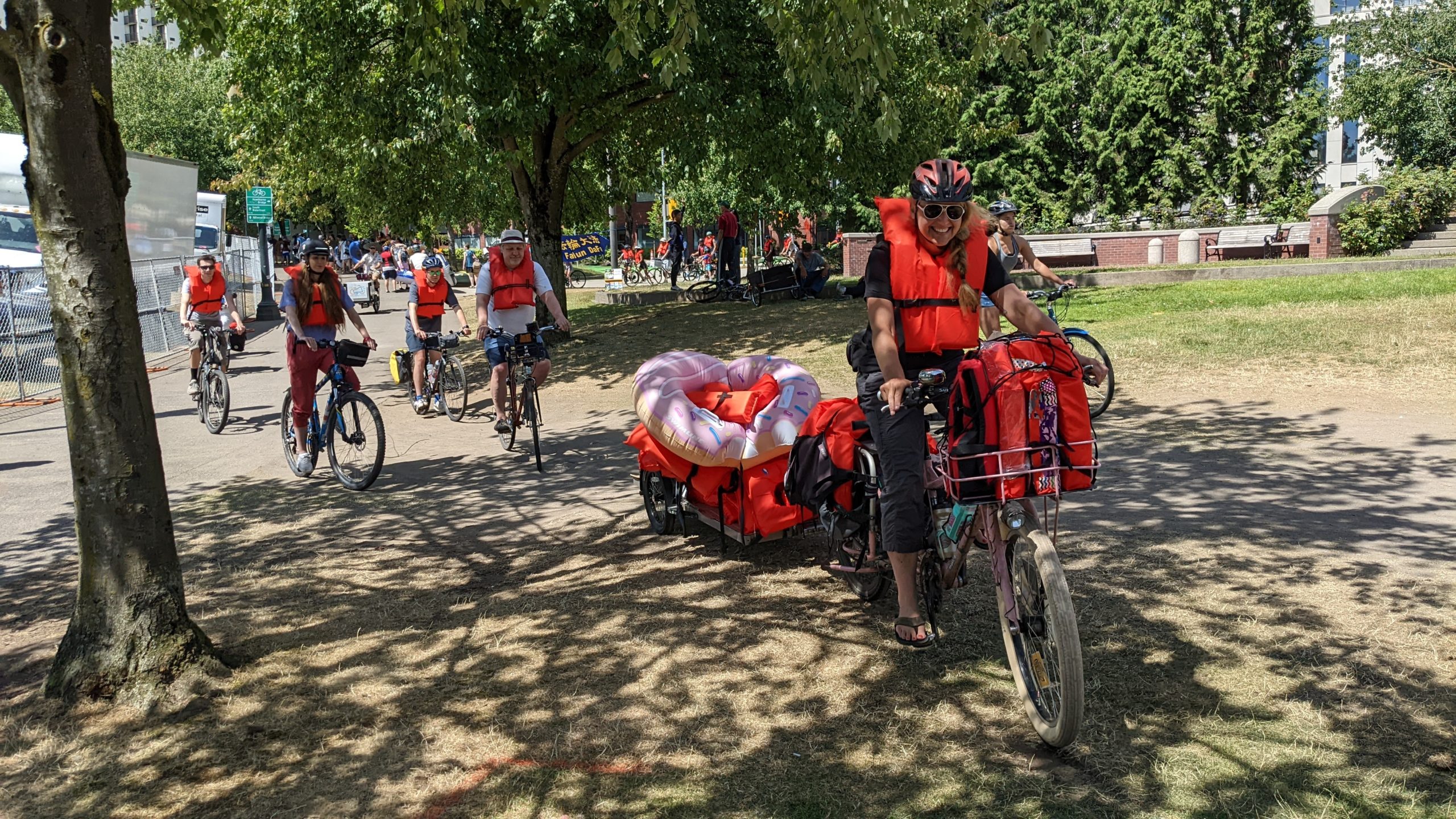 Nothing Beats a Heat Island Like a Cool River Swim
This weekend, in partnership with BIKETOWN and TriMet, The Street Trust led its friends and members on a guided bike and transit ride from the Lents town center to The Big Float in Tom McCall Waterfront Park.
Lents was the deadliest heat island during last summer's heat dome disaster and the dangerous conditions persisted during this year's record-breaking heat wave. The Street Trust understands that our climate crisis affects frontline and low-income communites disproportionately. We also know that an estimated 30% of Oregonians don't drive. That's why, we chose to support Lents' residents with affordable, safe options to access the cool waters of the Willamette River without having to drive.
While most participants rode their own bikes or used Biketown to take advantage of the beautiful sunny day, The Street Trust also distributed transit passes to anyone who didn't feel comfortable cycling. Despite being known as a multimodal leader, many Portlanders feel uncomfortable cycling and/or accessing public transportation. Our focus on providing multiple mobility options to The Big Float is indicative of our efforts to be more inclusive while also promoting a critical mobility service.
This multimodal event was the first of its kind for The Street Trust, and based on initial feedback we hope to continue offering transit tickets, BIKETOWN access, and mobility guides for future events.
"Heat Island to River Relief" bike ride participants met their guides at 10AM at the Lents Town Center, where the local farmer's market takes place. Several passersby approached The Street Trust to ask us what we were up to (probably something to do the giant pile of lifejackets strapped to a bike trailer). These encounters demonstrated to us that there is interest in BIKETOWN and bike events in the Lents neighborhood, which is also home to many of our priority communities.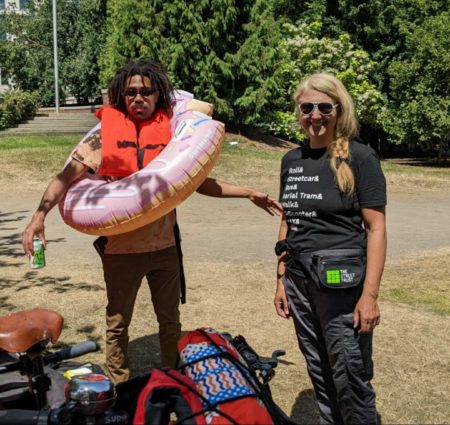 Some participants took TriMet's #14 bus, which has frequent service and stops directly in front of Lents Town Center. The bus dropped us off only a few blocks away from the Tom McCall Waterfront Park, making the journey very convenient while also offering a refuge from the heat. Taking in that stellar view of the Willamette as the bus crossed the Hawthorne bridge was also a reminder of how lucky this city is to have such an incredible public resource… and how important it is to ensure that everyone feels like they can access it. The journey also allowed us to connect with each other and talk about the impression that folks had about Portland's transit system.
Overall, the Heat Island to River Relief was yet another successful community-oriented summer event from The Street Trust. Not only did it serve the important mission of reminding participants of the seriousness of the heat island effect and the different ways you can access one of the most important cooling amenities in the city; it also brought together the TST community for a little fun in the sun. And it doesn't get any better than that.
Thanks for being so welcoming to The Street Trust, Lents neighbors — we look forward to partnering and enjoying future events with you! Check out more pictures in BikePortland.