Our friends at the Human Access Project are throwing their 10th and final Big Float to celebrate the Willamette River!
The Street Trust is joining in on the fun by leading two guided rides – one by bike and one by public transit – from the Lents neighborhood to the waterfront. Apart from being tons of fun, these rides will also draw attention to one of the deadliest heat islands in the city and help educate residents how they can access the cooling power of one of Portland's best free amenities, our beautiful Willamette River.
RSVP to secure your free tickets!
Sunday, July 10th, meet in Lents Town Center at 10:00 a.m.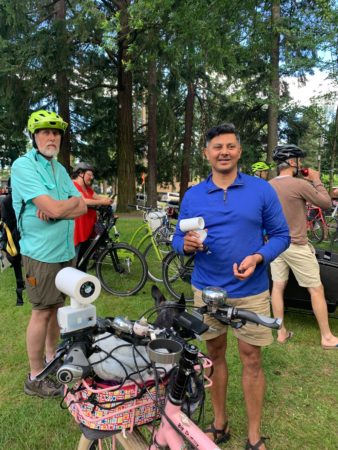 With extreme summer temperatures on our minds, The Street Trust is eager to demonstrate that the trip from Lents to the Willamette River can be fun, quick, and affordable by leading two group rides to the Big Float – one via transit and one via bikes and other active transportation devices. Special thanks to Biketown and TriMet for making these trips accessible for all.
We've got 150 free tickets to the event, free life jackets for all, and if you need a free bus ticket or free Biketown code, we've got that, too!
We joined 350PDX for their Heat Week Ride on Tuesday and visited the hottest spot in Lents, where PSU Professor Vivek Shandas reported the ground was over 100 degrees despite the temperature feeling mild in the shade. The ride took us from Lents to inner Southeast Portland so we could experience the change in quantity of tree canopy and notice the increase in shade and drop in temperature.
Join us before the heat of the day on Sunday, July 10th at 10:00 a.m. in Lents Town Center (SE Foster Rd at 89th) for light refreshments before we set off via bike parade and transit trip to the Big Float festivities.