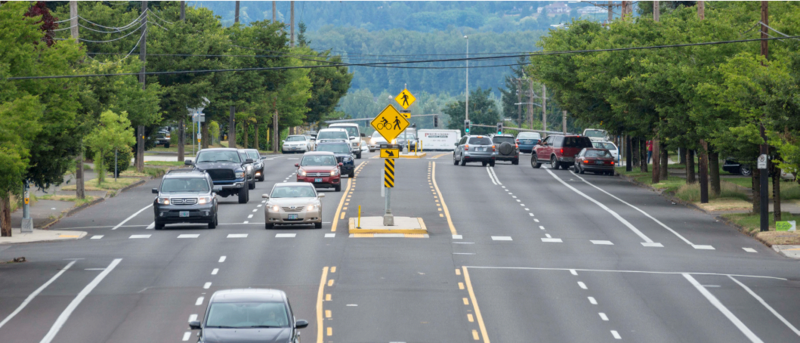 The Street Trust is proud to announce that Seattle-based Bullitt Foundation has committed a major gift to fund, in part, the #OurStreets regional community mobilization campaign. This award is among a suite of funding requests The Street Trust submitted to foundations this year in an effort to grow community power to fight for and win transportation policy and investments that prioritize safety, accessibility, equity, and climate justice in our region.
Their generous $45,000 contribution will support critical work engaging diverse and underserved communities across the greater Portland metro. It includes building out a data visualization tool, the #OurStreets Scorecard, which is designed to empower communities to advocate for investments such as street lighting, sidewalks, and transit service where they live, work, and play. It will also support other regional advocacy work underway at The Street Trust, including the implementation of equitable congestion pricing, e-bike lending libraries, and ensuring the multi-billion dollar Interstate Bridge Replacement Project has a positive impact on multimodal transportation in the region.
This gift is a significant investment in Portland-area mobility at a time when the region is facing numerous challenges and experiencing a changing-of-the-guard in leadership. An agenda-setting funder of climate action for a quarter-century in the Pacific Northwest, in 2019 the Bullitt Foundation funded The Street Trust to found what is now known as the Getting There Together Coalition (GTT), an effort to lead development with Metro regional government on a multi-billion dollar transportation measure. GTT continues to advocate for transportation justice in our region today.
Bullitt Foundation is giving away most of what's left of its endowment during the next couple of years, so this is likely to be one of their last investments in helping Portlanders achieve equitable, climate-smart transportation in our region.
"We see this as an important opportunity to elevate multimodal transportation as a priority issue at all levels of government and in all parts of the region," says Henry Miller, Grants & Impact Manager at The Street Trust. "It will help us empower communities to advocate for themselves and hold their leaders accountable for making real progress in improving transportation options at a time when they're desperately needed."
We still have $30,000 more to raise to reach our goal. Please join us in thanking the Bullitt Foundation for their investment in our future, and consider joining them by giving to The Street Trust today.