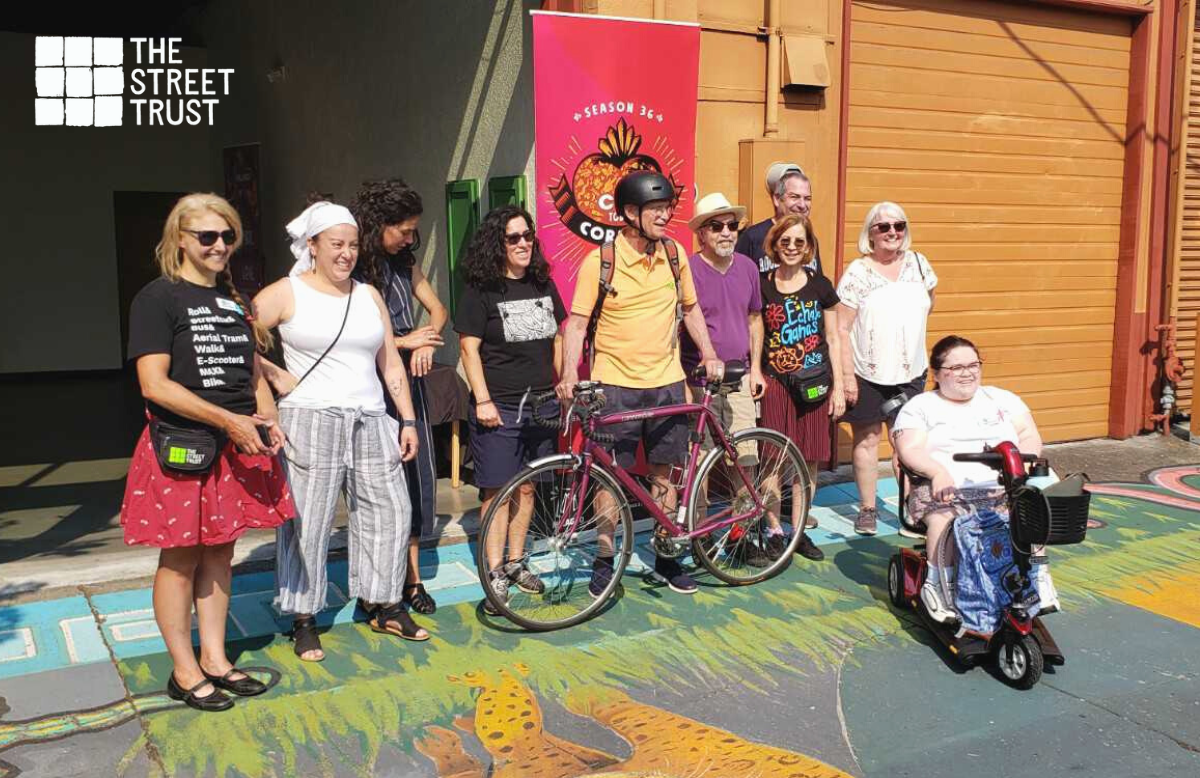 Back in February, Willamette Week created a "25 Reasons to Love Portland" Valentine to this place we call home. Number seventeen was,"Because Portland Is Building Bridges for People, Not Cars." In it, The Street Trust explained why we're smitten with carfree public infrastructure investments like Flanders Crossing and the Blumenauer Bridge. They're important from a transportation perspective for sure, creating safe, comfortable connections for people walking, rolling, and biking across parts of town that were previously noisy, stressful, and dangerous. But they're also important for cultural and socioeconomic reasons.
Talk is cheap (just ask Portland's 2030 Bike Plan), but what you spend your money on speaks volumes. And taking care to leverage public projects to get three or four bangs for each buck says a lot about the quality of governance in a place. Transportation wonks might think about these investments in terms of design and timeline, but what the general public sees are the promises we're making and whether we're making good on them.
So what are Portland's carfree bridges promising?
We care about people.

Active transportation projects which are safe and accessible tell people we care about their happiness and safety. Exercise is good for our health and low-stress connections reduce, well, stress. Have you tried chatting car-to-car while driving down the street? Didn't think so. But you saw plenty of chatting and laughing last week while folks strolled across the bridge. (P.S. When we provide amenities such as shade trees, water fountains, and public restrooms, it tells people we care even more.) [insert picture]

We care about the planet.

Yup, temperatures at the Blumenauer Bridge festivities were brutal, with many folks hunkered beside walls and under pop-up tents for refuge. Year after year, we're breaking climate records for rainiest this or hottest that. Climate change is unrelenting. Major carfree infrastructure is a high return on investment climate solution that demonstrates we're serious about changing the status quo with urgency. Bonus? They're going to come in handy after a major seismic event.

We care about placemaking.

Since Aristotle (and probably before) humans have debated the meaning of place. But at the core, places (as opposed to spaces) are where humans interact with and make meaning in our environment. In Portland, there's an intentionality to our placemaking through which we collectively celebrate diversity, art, community, mobility, and so many other experiences in our ever changing world. These new bridges don't just connect great places like Lloyd District and Central Eastside, they are beautiful and engaging places in and of themselves.

We care about prosperity.

Bridges that connect places thoughtfully and prioritize people over cars are good for business and the economy. They are economic drivers with a lighter footprint on local streets. But the economic

benefit

goes beyond helping local businesses. They also save money on healthcare costs because of reduced air pollution and fewer automobile crashes. And bottom line: they are a lot cheaper to construct than auto-centric infrastructure.
Carfree bridges such as Flanders Crossing, Blumenauer Bridge, and even Tilikum Crossing are indeed small compared to their gargantuan and overpriced car-centric counterparts (looking at you Interstate Bridge, ahem); they set the bar high for our transportation future and make good on our promise to realize a healthier, more just, and sustainable future.
On July 31st, The Street Trust and friends from Teatro Milagro, Go Lloyd and other fans of active transportation celebrated the opening of the Earl Blumenauer Bridge with the Bowtie Congressman.
Enjoy a few photos from the historic event!