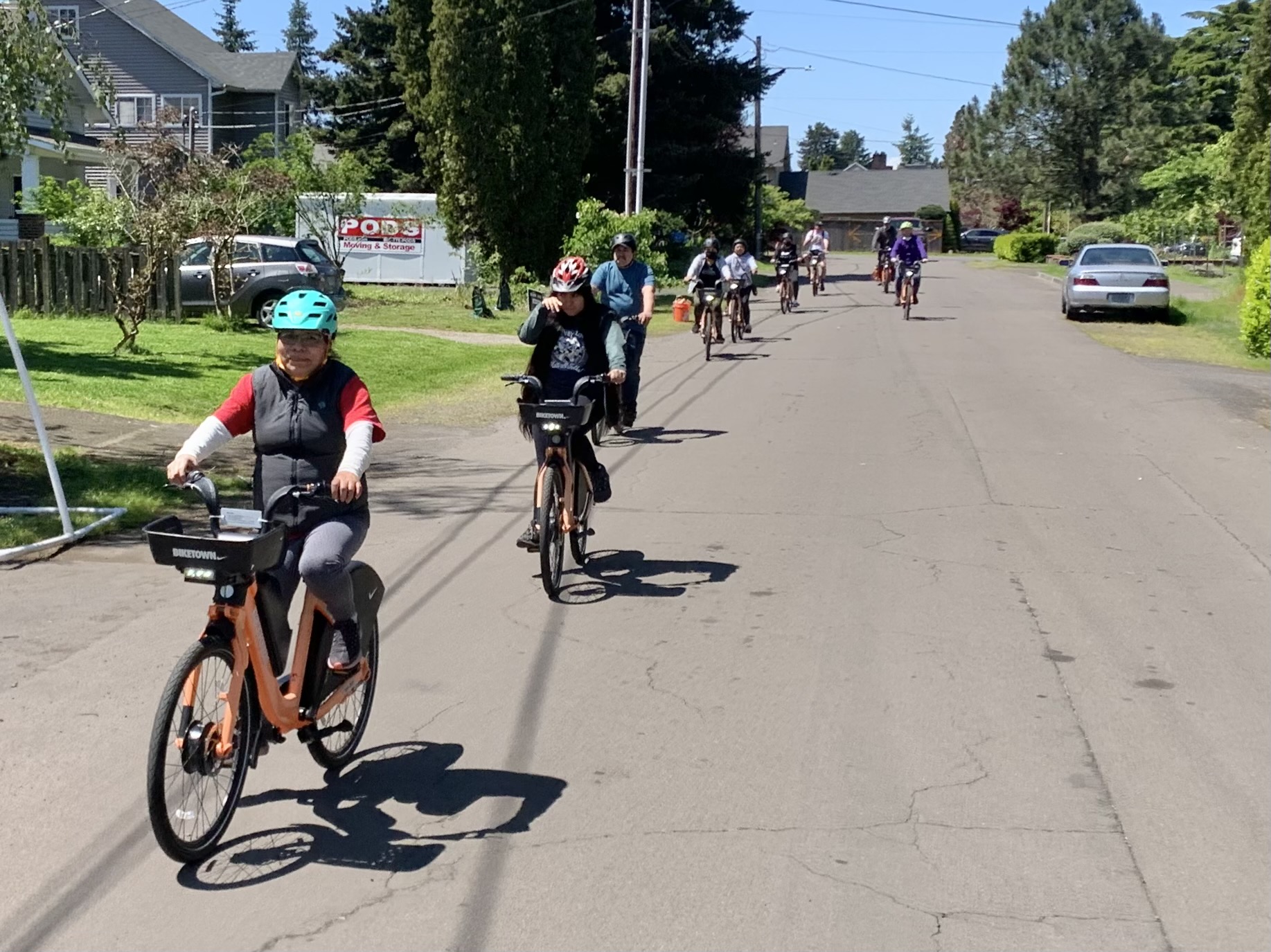 The Street Trust has developed robust e-bike and e-scooter training program in partnership with Forth Mobility with funding from Metro . Together we run workshops to put the training in action with Community Cycling Center and ABC or "Andando en Bicicletas y Caminando" (Riding your Bike and Walking Around). ABC is a group of community organizers who host bike rides, advocate for safe routes to school, and provide basic bicycle maintenance and training to friends and neighbors.
Recently, a group of ABC members with BIKETOWN for All memberships have been joining The Street Trust for e-bike and e-scooter clinics. Last weekend's workshop was an e-bike clinic that went beyond the typical safety skills and group ride to include troubleshooting and problem-solving elements of Biketown that would allow participants to assist others interested in trying out Portland's bike-share.
We did a lot of locking and unlocking Biketown bikes, located a lone bike to practice a mid-ride bike swap, flagged a bike as damaged, and identified the East Portland Super Hub Zone. We also intentionally experienced the power drop upon entering a slow zone in Kʰunamokwst Park (the best part was hearing the laughter when we left the park as the bike motors boosted back to full speed!)
ABC has a busy summer planned with the aim of getting more of their community onto bikes, and The Street Trust urges its followers to consider supporting them and attending the following events:
ABC will host several rides with BIKETOWN this summer- including at both Sunday Parkways– to get people signed up for BIKETOWN for All and guide them through the experience.
ABC will also host a Bike Fair at Rigler School on Sunday, June 12th, where they'll teach community members how to ride, get them signed up for BIKETOWN for All, and take them on trial rides with BIKETOWN staff.
ABC will participate in three additional workshops with The Street Trust, Forth, Community Cycling Center, and BIKETOWN to build their knowledge of the system.
Beyond just learning to ride and use the BIKETOWN app, ABC's collaboration with BIKETOWN addresses the very real issue of secure bike parking. PBOT installed bike lockers at Hacienda CDC, which the community appreciates and uses, but as more and more community members gain confidence on bikes, even more parking is needed. It's a good problem to have, and using BIKETOWN solves the dilemma.
BIKETOWN for All provides Portland-area residents 16 and older living on low incomes with a reduced-cost BIKETOWN membership. Learn more here.
Love this? Volunteer with our clinics.