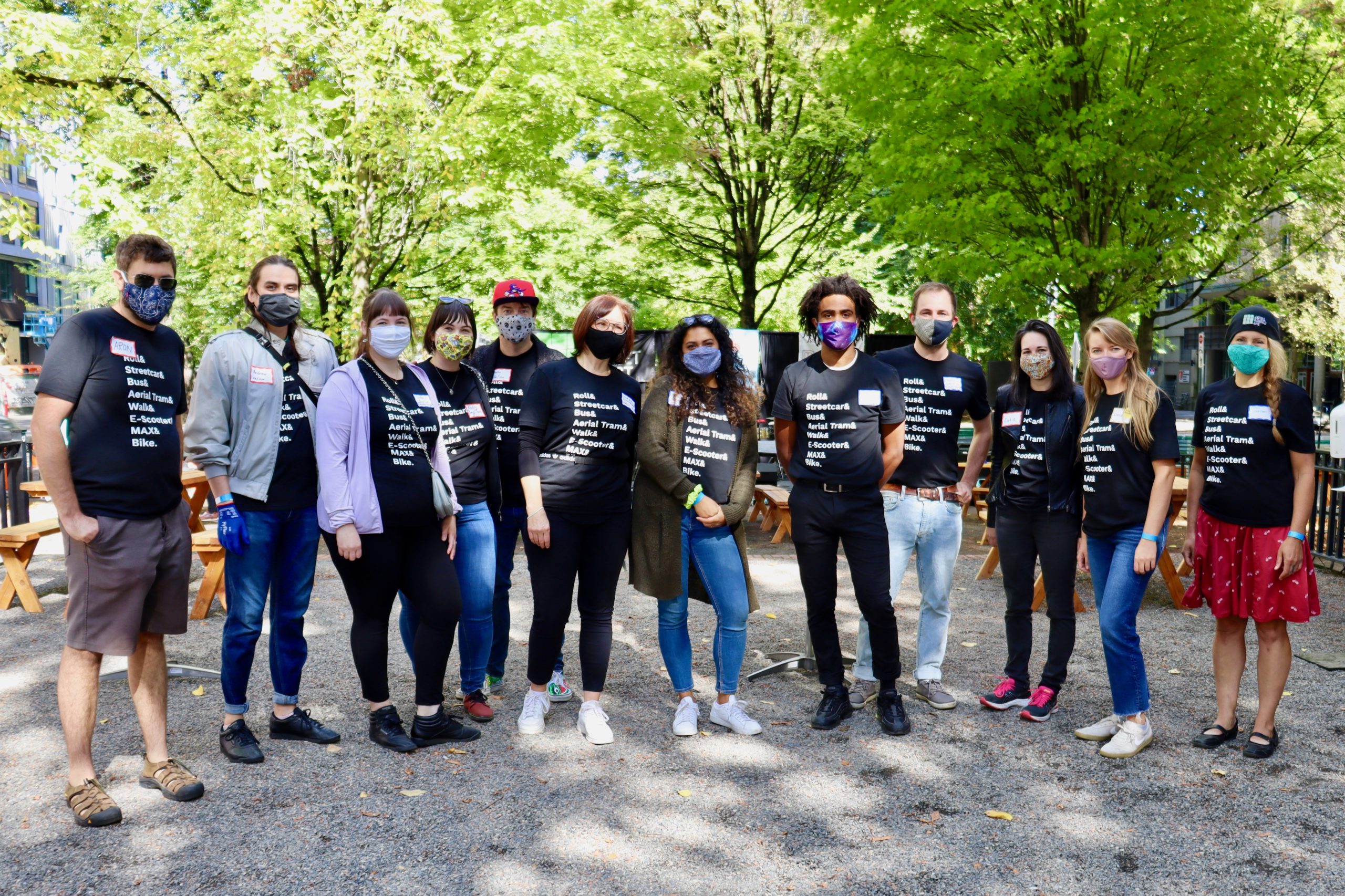 The Street Trust had an unprecedented year in 2021. Even as the pandemic continued to disrupt our society, our organization dug into an intensive rebuild with an eye to the future and took action to ensure we're making an impact across the Portland metro region and beyond. Despite unique challenges, TST pushed the region closer to a complete, safe, low-carbon, multimodal transportation system that contributes to equity in access, opportunity, health, and prosperity for all.
In 2021, the organization hired an Executive Director; forwarded state legislation to get more funding for people walking, biking, and rolling; recruited 18 new esteemed and diverse board members across both the 501c3 and 501c4 boards; published our 2021-23 Strategic Action Plan; and kicked off the #OurStreets campaign – an intensive effort to build tools and community power for better transportation outcomes across the Portland metro region.
But don't take our word for it! We went straight to our team on the ground for their wins from 2021 and their aspirations for 2022 …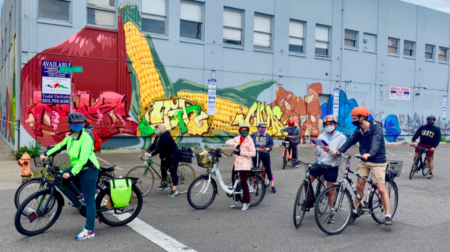 2021 was a breakaway year for our advocacy work. Over the past year, we revived and rebuilt The Street Trust Action Fund, our 501c4 political arm. The Action Fund board members represent diverse experiences and perspectives, who aspire to work together for greater credibility and influence in the politics of the greater Portland region. Working in complement to the efforts of our 501c3 arm, they are going to focus on the politics of elevating multimodal transportation as a priority issue at all levels of government and in all parts of the region. Building in greater power will help hold leadership accountable for making real progress in improving transportation options for people in their communities.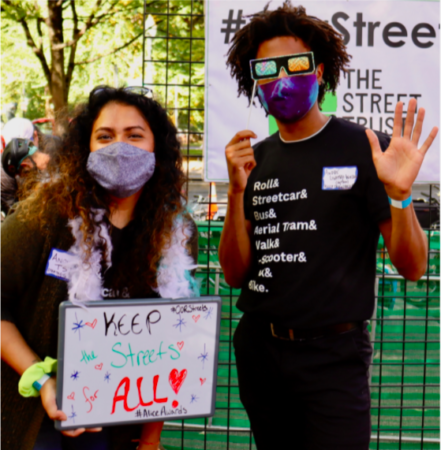 Policy Transformation Manager André Lightsey-Walker worked intensively in 2021, writing letters to agencies and officials calling for more equitable, climate-smart mobility options, and serving on committees at every level of government to shape better outcomes. He is most excited with how the organization built up our "capacity and presence at a diverse variety of tables," adding, "We've been impressing folks everywhere we go and building healthy relationships." André is optimistic that 2022 will bring more opportunities, "to come together in person for walks, rolls, and gathering in Our Streets!"
Partnerships are critical to our work, and this year our Strategic Partnerships Manager Anouksha Gardner made connections that emphasize our commitment to building alliances across many sectors and throughout the entire Portland metro region.
She worked hard in 2021 refreshing existing relationships and building new ones, including signing reciprocal memberships with members of the freight, technology, and business sectors, including Forth Mobility, B-line, and Business for a Better Portland. By adding Killer Queen Cyclery and Icicle Tricycles as new business members, Anouksha kept TST true to our biking roots.
Anouksha also connected with large institutions whose commuters and political influence can work with us to shape the future of Portland, such as Kaiser Community Health and Portland State University. When it comes to community-based organizations, Anouksha kicked off collaborations with Historic Parkrose, Unite Oregon, and the Rosewood Initiative as part of the #OurStreets campaign.
Supporting the next generation of walkers and rollers continues to be central to our programming. Education Director Lindsay Huber is proud that, despite school closures and distancing, TST helped schools and students host multiple successful Walk+Roll events in 2021. "We were also very proud to add 123 Oregon schools to the list of schools across the United States celebrating Ruby Bridges Walk to School Day with support from Ruby Bridges herself! This event encouraged students to learn about racial justice and apply it to active transportation."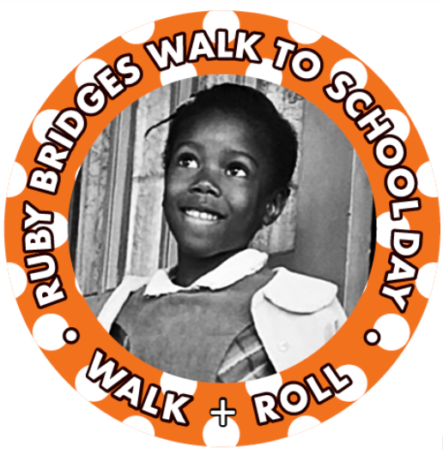 Walking and rolling to school isn't possible without a safe way to get there, which is why TST is thrilled with Safe Routes To School Coordinator Nicole Perry's hard won successes in 2021, including new safe routes for students attending Linwood Elementary and Sojourner Schools in Milwaukie.
In 2022, TST will work hard expanding our offering of Walk+Roll programs, including a Winter Walk+Roll event to encourage students to get to school safely in cold, rainy, or snowy weather with active transportation; and an Earth Month event in April to help students think about the impact of how they travel on the environment.
Despite the pandemic, The Street Trust also continued our critical work in the streets. Community Engagement Manager Madi Carlson, "loved that the 2021 Move More Challenge expanded beyond biking and included walking, scooting, transit, and more in a bigger effort to reduce car usage."
In addition to the Move More Challenge, Madi hosted inclusive WeBike rides and supported or led other bike rides throughout the year. This included two community rides hosted by Teatro Milagro in SE Portland: Día de la Madre in May and Día de los Muertos in October. She also worked with the City of Portland over the Summer to host an event at Gateway Discovery Park and an events action table in Old Town for the 'Here for Portland' weekend. To help fill the void so many of us felt with no formal Sunday Parkways, Madi led our efforts to activate the street outside Teatro Milagro every Sunday in August to create "mini Sunday Parkways." In 2022, Madi is hoping to return to "more in-person programming for the Oregon Active Transportation Summit, Bike Commute Clinics, and The Street Trust member events!"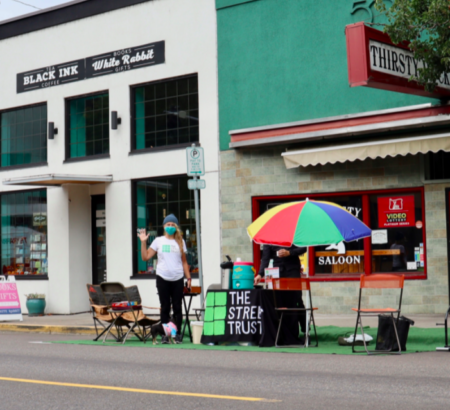 TST also deployed grants to support activations that transformed streets across the region into people-oriented spaces. In September, Grants & Impact Manager Henry Latourette Miller obtained a grant from SPIN and worked with the local business community to set up a parklet in a parking space in Oregon City as a part of International Parking Day. He was thrilled to organize the Oregon City event, which, "proves our commitment to serving the entire Portland metro, while featuring a partnership with the local business association, demonstrating our ambition to create innovative alliances across many sectors."
In a perfect harmony of furthering our mission while building up our community, our biggest street activation of the year was our annual Alice Awards, which we transformed into a lively, intercultural block party at the Friends of the Green Loop's Ankeny West space. Along with allowing our supporters and allies to gather in celebration of transportation leaders for the first time in over a year, the block party was also an opportunity to take over a full lane of West Burnside Street, one of Portland's most notorious arterials.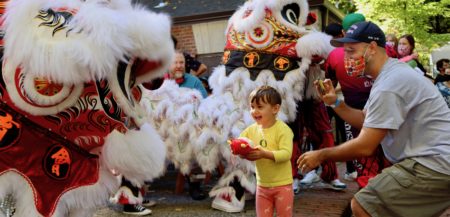 Looking to the future, In 2022, we're going fight for you from the literal intersections of a public health crisis in which unsafe and incomplete public streets threaten our lives and livelihoods. We're going to refuse to settle for an autocentric transportation system that worsens disparities and sacrifices our future. We going to stand firm in the belief that we can stop preventable death resulting from inequality, lax safety, and climate change. And we are going to do everything we can to win policy transformation and major investments that save lives, reduce barriers, and expand opportunities to the people and neighborhoods our current system neglects.
In 2022, our work will be defined by a continued commitment to investing in advocacy, education, community, partnerships, and impact. The #OurStreets Community Mobilization Campaign is now underway, with planned collaborations with Rosewood Initiative, Historic Parkrose, and Unite Oregon set to take place this spring. We are supercharged with new faces and new energy ready to take the work of The Street Trust to new heights. 2021 was a year of big changes and bold moves. 2022 is the year those seeds we planted will bear fruit.
But we can't do any of this without you. Together, we can have greater impact advocating for public investments that make our region more livable, equitable, and healthy. As a new year begins, please make sure your membership is up to date, gift a membership to street users you love, and sign up to volunteer. In 2022, we're going to reclaim our streets, and our future – but we can't do it without you.