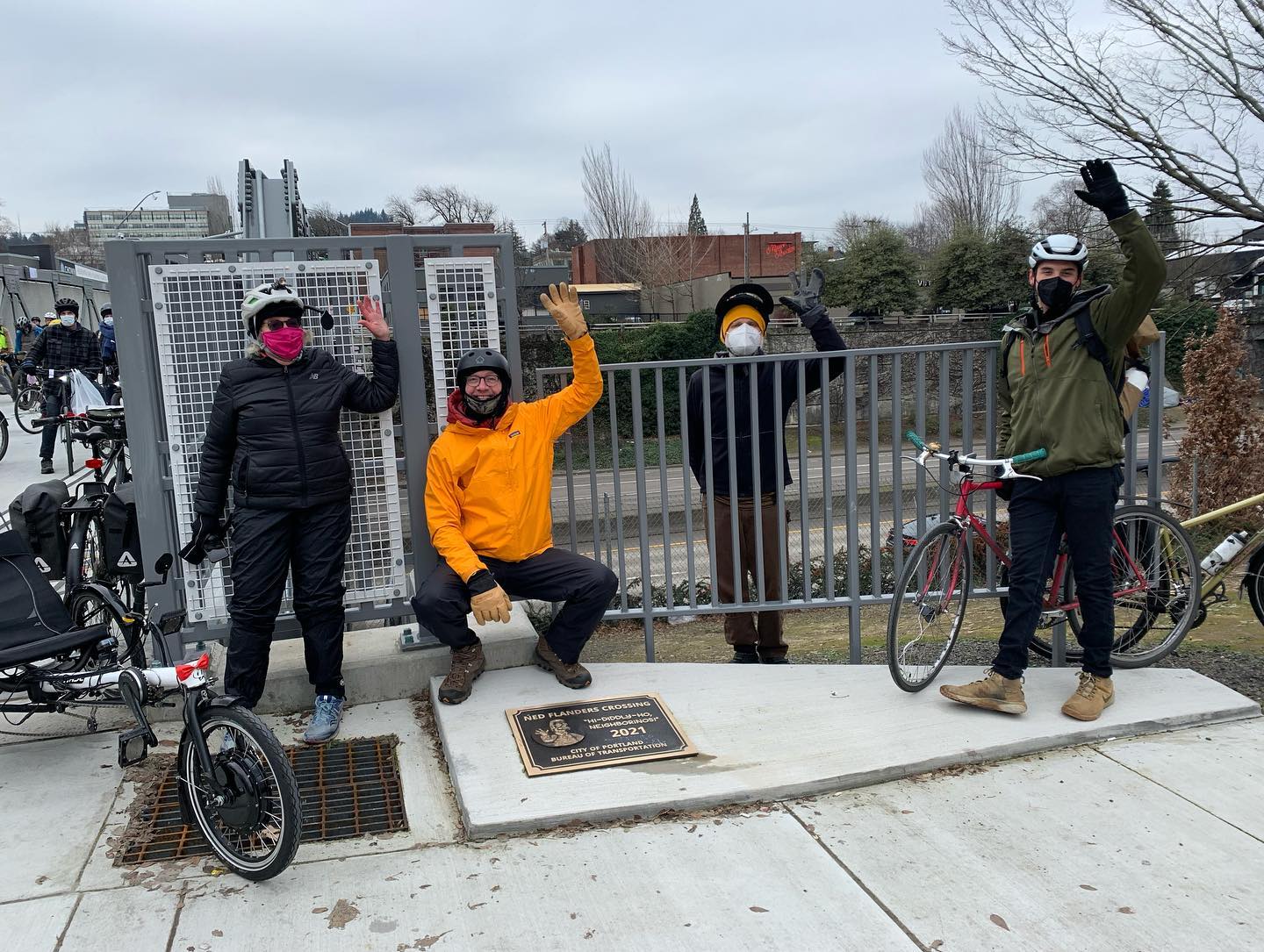 A Pacific Northwest winter provides so many exciting bicycling environments: relentless rain, very cold temperatures, long hours of darkness, snow, and ice!
Here are 10 tips to help you bike in some of the conditions winter might present.
And if you're a member of The Street Trust or Business for a Better Portland, join us for an hour-long virtual Winter Biking Clinic on January 24th to learn even more.
Fender up!

Full-coverage fenders will keep that dirty, gritty water and slush on the ground from getting on you, but they also prevent it from making its way into your bike where it will slowly grind away at your drivetrain.

Clean your chain.

Wiping your chain clean and applying lube more often throughout the winter will keep your bike running smoothly. Also wipe accumulated snow off your chain as it builds up.

Shield your glasses. Get a visor for your helmet to keep rain and snow off your glasses. Or you can make one: remove the button from the top of a baseball cap and it will fit nicely under a helmet.
Wool is warm!

Wool keeps you warm even if it gets wet. There's no great vegan alternative to wool so whether or not you're wearing wool:

Layer up.

Wear base layers under jeans, jeans under rain pants, two pairs of gloves, two pairs of socks.

Re-waterproof gear.

Check your soggy rain gear's tag or online to see howto reactivate it–many items just need a spray-on or wash-in coating andthey're like new.

Bring extras.

If you've got room to stow extra gloves, socks, or even shoes, do it! You'll use these extras to replace wet items or to add as extra layers.

Avoid wet metal.

Metal plates and grates can be slippery in the rain so go around them whenever you can.

Long stops.

Give yourself extra stopping space when the ground is wet–especially if you have rim brakes rather than disc brakes.

Light up!

You're required to have a front light visible from 500 feet away, but a stronger light that illuminates potholes and other hazards is great for riding in the dark.
Join us with your lunch on Wednesday, January 26th to learn even more about biking in winter. Email [email protected] if you haven't received your invite yet or to check the status of your membership. Not a member yet? Join for $5 a month or $40 a year here.