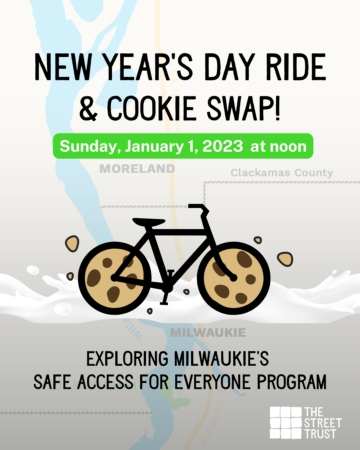 Happy New Year! Read a recap and see photos of our 2023 ride here: The Street Trust welcomes the New Year in Clackamas County.
Sunday, January 1, 2023, NOON
Start: SE Park Ave MAX Station (end of the MAX Orange Line)
End: Milwaukie Station Food Cart Pod / Milwaukie/Main Street MAX Station
Coming by TriMet? Check the TriMet NYD schedule.
Usher in the New Year with a family-friendly five-mile bike ride around Milwaukie, checking out some of the completed and planned SAFE (Safe Access For Everyone) program. We'll have warm drinks at the start (starting at 11:30 a.m.), a giveaway at the end, and share our hopes and plans for the new year! Bring your leftover cookies for a cookie exchange at the end–and don't worry if you're cookieless, we'll bring lots of cookies so everyone can partake.
About the New Year's Day Ride
For over 50 years, Portlanders have welcomed the new year with a bike ride. The ride serves two purposes:
highlights recent and upcoming changes to our streets
provides a fun opportunity to see new parts of the city with friends old and new
Streets are quiet on New Year's Day, which allows the New Year's Day Ride to take routes that might be unpleasant on any other day.
Our 2022 New Year's Day Ride was a mellow, sociable, 8-mile, family-friendly loop starting at Salmon Street Springs in Waterfront Park at noon.
The ride highlighted three exciting projects:
Better Naito Forever, nearing completion
Ned Flanders Crossing, Portland's newest bicycle and pedestrian bridge
Congressman Earl Blumenauer Bicycle and Pedestrian Bridge, sited, but not yet rideable
The ride also showcased upcoming changes happening for people biking and walking as part of Central City in Motion and the Rose Lane Project, discussed the Green Loop, the Earthquake Ready Burnside Bridge project, Human Access Project's Burnside Bridge Pedestrian Access Bridge concept, and biked across Tilikum Crossing.