(This page is currently under construction. Please come back soon for updates.)
Regional Policy & Investments
Serving Greater Portland
Oregon Transportation Commission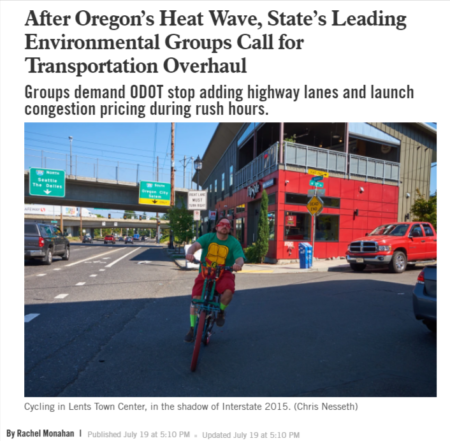 Why it Matters
In the midst of a climate crisis, Oregon policymakers continue to find ways to pay for oversized highway projects around the Portland Metro Region while telling advocates for investments in safe routes for walking and biking to go look for new revenue sources.
Our Position
We joined advocates from across Oregon in calling on the OTC -which guides state policy on transportation – in demanding they acknowledge the urgency of the climate crisis and reorient the Oregon Department of Transportation (ODOT) to "redesign our transportation system to make transit, biking, and walking the easiest and most accessible forms of transportation."
Read the full letter here [PDF]. Special thanks to Sara Wright of Oregon Environmental Council for authoring.
TriMet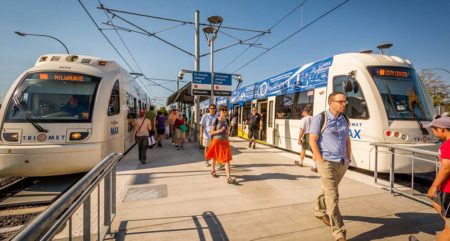 Transit authority providing bus, light rail, and commuter rail transit services in the Portland, Oregon, metro area.
Why it Matters
Public transit that only works for some parts of an urban area harms workers, students, and families, leaving those with modest means and the greatest need without access to opportunity. But inadequate transit is ultimately bad for all street users, creating congestion, decreasing health, and harming the environment.
We want to ensure safe, equitable, reliable, affordable access to transit for all users in our region.
Our Position
The Street Trust prioritizes faster, more efficient transit. We work to educate and engage existing and potential members and the general public to better understand and advocate for better transit in our region.
As a founding member of the Getting There Together Coalition, we rallied behind a transparent, community-led process in the recent hiring process for a new General Manager. We help shape major transit investments and decisions, advocated toget buses out of traffic, participate in the agency's Equity Advisory Committee, and are keeping a close eye on the future of public safety on transit.