(This page is under construction. Please visit again for updates.)
Legislation
State and federal policy to benefit Greater Portland.
SB 395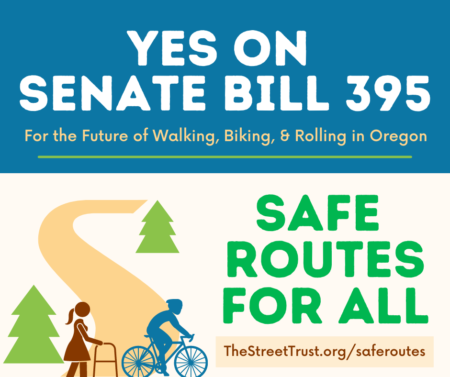 Description
On the 50th Anniversary of the Historic Bike Bill, SB 395 would have increased required expenditure on footpaths and bicycle trails from one percent to five percent of amounts received from State Highway Fund:
Increased safety for those walking or rolling

Equitable access to safe ways to walk and roll, including for BIPOC Communities and people of all ages and abilities

Economic boost to our state and local economies

Reduced traffic congestion and carbon emissions

Greater connectivity to Oregon's beautiful natural spaces
Our Position
At the request of The Street Trust, Senator Floyd Prozanski sponsored this bill. On March 4, 2021, dozens of supporters statewide provided spoken and written testimony.
Although the bill did not move out of the Joint Committee on Transportation, we accomplished a lot through the process:
20 elected officials, civic leaders, business owners, and community members testified at our public hearing in support of Safe Routes for All

65 individuals submitted written testimony in support of Safe Routes for All including regional and county agencies and governments; local elected officials; and leading environmental, transportation, and disability rights advocacy organizations

Over 200 coalition members joined our statewide campaign, including 13 industry leaders from across sectors supporting by walking and biking activities

Key media coverage like

this

from the Portland tribune and

this

from Bike Portland highlighted why we must transform how we support walking and biking in Oregon

Bike Bill 50th Birthday Party – A Virtual Rally for SB 395 featuring chief sponsor Sen. Floyd Prosanski, elected officials, and invited guests
HB 3055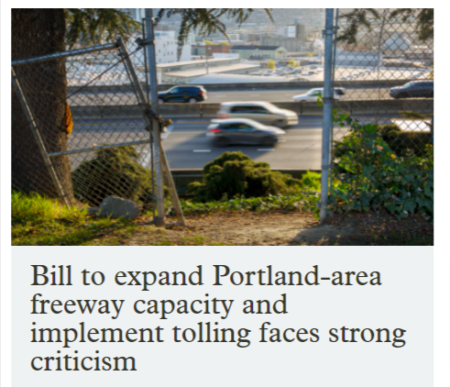 Description
Following the death of HB 3065 (in part due to opposition from The Street Trust) state lawmakers continued to find a path to funding outsized freeway expansions across the state through HB 3055, including $30M annually for major highway projects and increasing the state's borrowing and tolling for revenue capacity to fund outside projects prior to implementing demand management.
Our Position
As we recover from COVID and face an unprecended climate crisis, we find ourselves at a critical juncture and unique opportunity to provide Oregon's families and workers with the sensible transportation choices they need in ways that they can afford. What we're grappling with now, in many respects, are the consequences of our success: Senate Bill 100 charted a course of constrained urban growth which means that more of us are traveling in congestion over shorter distances than ever before. However, the response to this situation should not be reverting to failed 20th Century tools like autocentric megaprojects but rather to stay the course on our legacy of policy innovation for the 21st Century. Now is the time for us to invest in cleaner, more sensible mobility options along with more equitable, sustainable, transparent ways of paying for them. Now is the time for us to muster the same bipartisan commitment that we once had for stopping urban sprawl and apply it to stopping freeway overbuild and investing in safe streets for all.